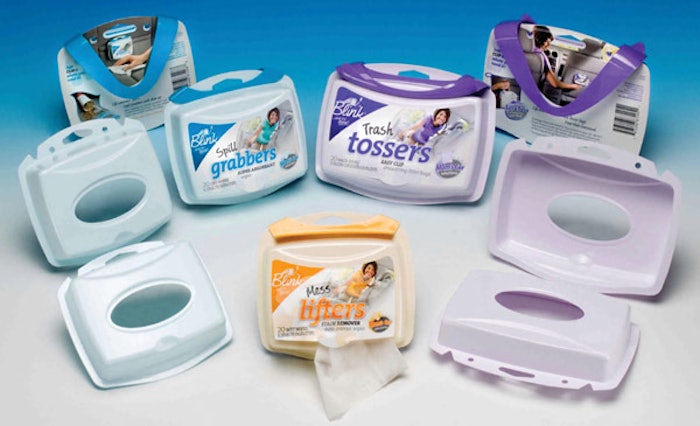 "Design to manufacture" describes a capability that leading-edge contract packagers are adding to their stable of services. In simplest terms, it involves engineering a package design cost-effectively to stay on budget, yet retain the appearance of the design prototype.
The development of a line of car-care products for Honeywell's Consumer Products Group offers a glimpse of the design-to-manufacture approach in action. Contract packager Rand Direct took a branding agency's design concept for the product line and refined it to work on packaging lines. Then the co-packer managed engineering and production operations, and took responsibility for shipment of goods.
These more sophisticated contract-packaging services helped Honeywell achieve several results:
• A line of five products, in sometimes-complex packaging forms, required just 10 months from initial design to the first completed packages exiting the production line.
• Honeywell completed the project with economies of scale. More than a dozen vendors and many packaging components were sourced efficiently.
• Honeywell has emerged as a leader in the auto-aftermarket aisle by creating a new subcategory and revenue stream through products that answer women's car-organization needs.
Emerging trends
In creating its Blink brand of "Mom's Car Solutions," Honeywell responded to internal research showing that whereas men treat their cars as a reflection of personal identity, women—in particular, moms—see their vehicle as an extension of home. Moms expressed a desire for convenience products to help keep their cars cleaner and more organized.
A related trend, playing out in stores, is an evolution in packaging tactics to get women's attention—even in traditionally male-dominated aisles like auto-aftermarket products. Women represent 80% of mass-market shoppers and often, they purchase the products men use. Product and category managers with especially keen eyes are discovering subtle opportunities to create packaging systems in otherwise male-dominated categories that attract women as both shopper and consumer—in the process introducing them to aisles they might not otherwise visit.
Honeywell worked with 4sight, a product and package innovation firm, to clarify market needs and analyze women's car-cleaning and organization habits, wants, and purchase behavior. The redefining of the demographic category of "women" to "soccer moms"—the 24/7 on-the-go mom—revealed new insights that 4sight translated into key product platforms and opportunities as the basis for package design and development.
"We discovered that these moms are not interested in traditional car-care cleaning products," says Jim Brown, Honeywell Consumer Products Group director, new product marketing. "There just isn't enough time in the day for busy moms to spend it aggressively cleaning the family car. Plus, it's often cost- and time-prohibitive to have it cleaned professionally."
Those concerns spurred development of the Blink product family. It includes Mess Lifters stain remover auto interior wipes, Spill Grabbers superabsorbent wipes, Trash Tossers easy clip drawstring litterbags, Smudge Cleaners fingerprint removers, and Tidy Totes carry bags. They help "soccer moms" organize their hectic lives in the car while transporting kids to athletic fields and other activities.
The packaging designs are decidedly feminine-looking and combine function with fun. For example, the clip on the back of the Trash Tossers thermoform package enables the package to hang from rear pockets of the front seats; the clip is lavender and shaped like a bow.
A design concept surfaces
"We designed the products and packaging with a sense of style and feminine forms, such as arches, curves, and soft lines, to communicate friendly products with personality that are easy to use," says Stuart Leslie, president of 4sight.
Elsewhere in the line, Smudge Cleaners provides glass-cleaning spray solution and spray wipes separately in one package. Spill Grabbers and Mess Lifters are designed to work together as an absorb-and-wipe system for managing spills and residue. Tidy Totes are see-through, expandable, lightweight, mesh tote bags, which can be disposed of or reused.
As 4sight created the packaging concept for Blink, integrating brightly colored graphics created by HMS Design with inviting design structures, the range of packages seemed playful when viewed as computer-screen images.
The next challenge was assuring those designs worked in production. Honeywell answered this challenge by creating what Brown describes as a "virtual-factory" approach to manufacturing. Honeywell lacked a procurement team large enough to source all 20 components used in the product family, as well as the multiple vendors required to source liquids and package the line. So 4sight managed the entire preproduction phase, and Rand Direct sourced the vendors.
"We also worked with the Honeywell logistics team to understand the scope of implementing these new concepts from their standpoint," Leslie explains.
Preparing for production, 4sight interviewed about 50 companies before selecting Rand Direct as the contract packager. Rand Direct packed out the entire line after procuring components from nearly 15 subvendors, including two in China. Trash Tossers are manufactured in China, but Rand Direct manages production for that product based on sales projections and product timelines from Honeywell.
Across the remainder of the Blink line, "We produced and procured all the components, and we could do it quickly," says Harold Pond, the project manager who led Rand Direct's design validation effort. "We also did all the testing and provided all samples to prove that the selected materials would work, in order to make it economically feasible.
"The result was that one person at Honeywell was needed to manage the whole project on their end."
Rand Direct offered enough production line flexibility to meet Honeywell's product-forecasting requirements. This capability is becoming an important prerequisite of product manufacturers as they change package sizes and graphics frequently to meet various retailers' current needs.
The set of design specifications that 4sight developed became the prototypes on which Rand Direct built the different Blink product samples. The co-packer's procurement list included injection molding, tray thermoforming, non-woven materials, non-woven converting, film, flexible bags, sewn bags, PVC pouches, and product-formulation services. In addition, packaging components for some of the products were selected on the basis of their ability to help retain product moisture, despite extreme temperatures inside closed vehicles.
Tegrant Alloyd Brands worked with Rand Direct to develop a family of colorful thermoformed PVC trays to hold pre-moistened towelettes, one style of tray each for Mess Lifters, Spill Grabbers, and Trash Tossers.
"We were able to take a packaging concept and execute it in color thermoforming, whereas the traditional approach would have been injection molding," says Ken Sullivan, director of marketing at Tegrant Alloyd. "In the process, it saved Honeywell some money."
The trays contain injection-molded ABS clips and paperboard graphics cards.
Don Garda, Rand Direct CEO, says the components of the Mess Lifters package in particular put the company's manufacturing capabilities to the test. The co-packer tested several paper stocks to determine if any of them would provide adequate moisture barrier against the wipes in carton form. None did, so the decision was made to use PVC blisters, which are RF-sealed on Rand Direct's lines to provide the necessary moisture barrier.
"Engineering worked with production to find the best-cost automation process" to insert the towelettes into a rigid container and then moisten them, Garda says, referring to the Mess Lifters package. "We put in the moisture a little at a time, but not so much that you couldn't seal the package. We also needed a two-layer polypropylene label that would ensure that the package could be opened and sealed 20 times (20 towelettes per unit) without becoming wet."
In addition, Rand Direct custom-designed a punch press to create clip holes in the Mess Lifters packs after each blister is sealed. A clip is then inserted in the holes, enabling the package to be hung inside a vehicle for convenience. This sequence is necessary because the package is already sealed with the liquid and towelettes contained inside. Creating the holes after package sealing assures the sealed area is not compromised.
Next stop: validation
Each component was tested multiple times at several levels, for every sample package, to assure that products and packaging materials were compatible. With validation completed, Rand Direct delivered the package samples to Honeywell. The packages received strong reviews from consumer focus groups. Upon Honeywell's approval, Rand Direct then geared up for full production on the line.
Integrated prototype designs, and product procurement, operations, and validation procedures—these are the hallmarks of the design-to-manufacture way of thinking. Such an approach enables a new design to pull itself into the market through quantifiable cost savings and consumer benefits instead of the marketing department pushing a design that fails to link anticipated benefits to the overall business strategy. This approach holds a lot of promise for contract packaging as a value-added service.
The author, Jim George, is the editor-in-chief of Contract Packaging magazine.
Companies in this article