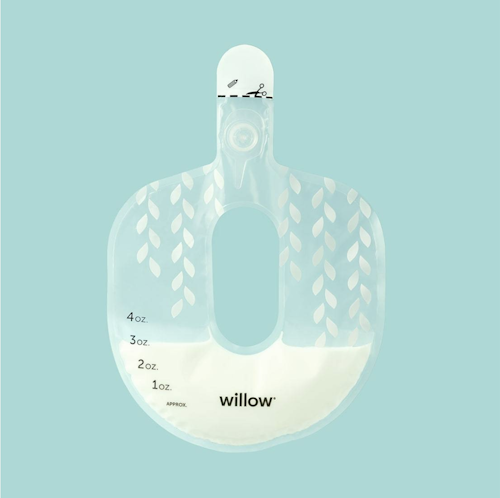 Vonco and Willow were awarded a Gold Award for Technical Innovation, a Silver Award for Expanding the Use of Flexible Packaging, and a Silver Award for Packaging Excellence in the 2019 Flexible Packaging Association's (FPA) Achievement Awards for Vonco's design support and manufacturing of the Willow® Wearable Breast Pump Milk Bag.
The Willow Wearable Breast Pump Milk Bag is a doughnut-shaped milk bag that supports the new wearable Willow Breast Pump, named one of Time Magazine's Top 25 Best Innovations of 2017. BPA-free, food-safe and spill-proof, the Willow Milk Bag features a one-way valve, and is fully recyclable. The uniquely-shaped Willow Wearable Breast Pump Milk Bag is designed to be part of the Willow breast pump system, the world's first all-in-one wearable breast pump that fits inside the bra.
"The Willow Milk Bag incorporates so many of our unique capabilities—all in a single bag. The custom shaped flexible bag features a one-way valve insertion with extremely tight tolerances and liquid-tight seals," said Vonco President Keith Smith. "This bag, along with the Willow Wearable Breast Pump, is a game-changer for nursing mothers. It's especially meaningful to receive recognition for helping our customer implement a technology that's improving mothers' lives."
Willow 2.0 was introduced to the market on February 15, 2019, with the custom Willow Milk Bag manufactured by Vonco. "Vonco has a special ability to manufacture unique shaped packaging," said Naomi Kelman, President and CEO of California-based Willow.
"The FPA Awards validates Vonco as a leading medical fluid bag supplier. We're privileged to have been the partner of choice capable of mass-producing what Willow envisioned. To be honored by the FPA for it as well is extremely gratifying for all of us at Vonco. I am extremely proud of our team's innovation," said Smith.
Companies in this article