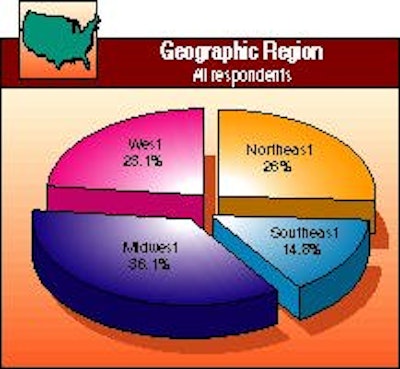 A salary and job satisfaction survey within a specific industry certainly has its value. But only a cross-industry survey allows a packaging engineer in one industry to compare his salary with peers in another.
Similarly, there is value in comparing salaries in small companies versus those in large, as sometimes salaries vary considerably in this regard.
Only a broad-based, cross-functional, cross-industry survey is capable of delivering a true sense of one's earning potential in different departments, regions, company sizes and industries.
Earlier this year, Packaging World leveraged its multi-industry readership to undertake such a comprehensive survey. As the packaging function crosses department and industry lines, so did the survey. It was mailed to 2ꯠ readers with responsibilities in engineering, production, maintenance, purchasing and management.
While low single-digit responses to such surveys are considered normal, PW's survey garnered a healthy 14% response. Respondents work for large companies as well as small, throughout the U.S., representing a variety of industries, including food, beverage, pharmaceutical, medical and industrial.
These charts help paint a picture of the respondents. More charts on all respondents can be found in our story last month (PW, Sept.'97, p. 52). They can also be retrieved from the full-text searchable archives on PW's web site at https://www.packworld.com.