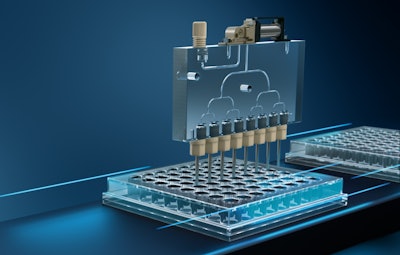 Dispensing, aspirating, pipetting—precision is a must when handling very small volumes of liquid. So how do specialists in laboratory automation manage to meet their quality requirements reliably and efficiently, even with high throughputs? How do they achieve reproducible results and avoid contamination? The Life Science webinar from automation specialist Festo provides clear answers to these and many other questions. When? On Wednesday, 16 June 2021, from 3:30 to 4:30 pm (CET) at the following link: https://festo.com/liquidhandling-webinar. The webinar will be in presented in English.
In this webinar, engineers in laboratory automation, designers of laboratory systems and equipment, scientific managers and scientists in drug development and research will be given a quick overview of the basics of liquid handling. They will find out about the functionality and benefits of pressure-over liquid dispensing systems. Participants will also discover how to accurately dispense and aspirate liquids using dispense heads and media-separated valves. Using a trade fair exhibit as an example, they will see how to pipette samples precisely and flexibly with pipetting modules.
In the last fifteen minutes of the webinar, participants will have the opportunity to ask questions and exchange ideas with Johannes Lang and Lars Zimmermann, Festo's liquid handling experts. Johannes Lang is an experienced mechatronics engineer with a background in digital automation and artificial intelligence. As a product manager at Festo, he focuses on the development of liquid handling applications such as dispense heads and pipettes. Lars Zimmermann is a Festo sales engineer and thus closely involved in looking after the needs and requirements of customers in Life Science on a daily basis. In his technical sales role, he has been advising customers on automation issues for five years.
Those who are unable to attend the webinar live can register anyway and will receive a link to the recording.
Companies in this article