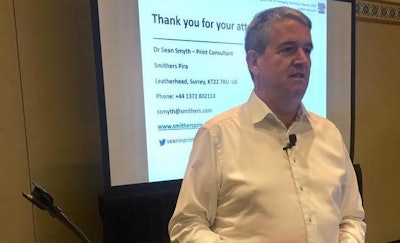 The June 4 workshop Smyth delivered at Digital Print for Packaging US 2019 was a great way to kick off the conference, which was produced by Smithers Pira. Highlights:
• The packaging market globally was at about $860 billion in 2018 and is expected to reach $1 trillion by 2023. All categories show growth, but none is growing faster than flexibles.
• Drupa, the printing extravaganza produced by Messe Dusseldorf, every four years, takes place in 2020, and it will bring a "big bump of announcements," said Smyth, where digital print for packaging is concerned. For example, Windmoeller & Hoelscher will be showing a prototype of a digital printing system for flexible packaging that will have Xaar print heads and will use water-based inks.
• The narrow-web ink-jet label space is a bit crowded, with 78 system suppliers at last count.
• Digital printing of corrugated is the most dynamic sector in all of packaging, both in systems for preprinted linerboard and for corrugated board. HP Indigo has more or less had this market to itself, but others could give them a run for their money. There's talk of a Xeikon digital printing system for corrugated, though Smyth admits he hasn't seen it yet. "Maybe at drupa," he observed.
• In the digital ink-jet space, advanced vision technology and new software are better able than ever to compensate for missing or nonperforming or clogged nozzles, so quality has increased notably. Smyth also said he is impressed by how much R&D investment is underway in ink-jet heads, inks, and machinery.
• Why is digital print for packaging is growing as briskly as it is? One reason is that it's being pulled into the marketplace by those who recognize its advantages just as much as it's being pushed by the suppliers who stand behind it.
• In some ways digital printing technology as it relates to packaging has been sufficiently optimized. Now it's packaging designers who need to join in on the conversation. Don't design a container with 84% or even 51% ink coverage. Aim for 13% coverage. The inks are not cheap.
• The Uteco Gaia printer has electron beam curing, a first. It's more expensive than UV curing, but it eliminates the photoinitiators inherent in UV curing that cause odor and may lead to migration issues.
• Digital printing remains technically challenging. Workflow has to be thought through very carefully, andconverters are not good with workflow. "It requires change," said Smyth, "and change can be painful. What's really called for is process re-engineering."
Explore The PACKage Printing Pavilion at PACK EXPO Las Vegas, September 23-25.