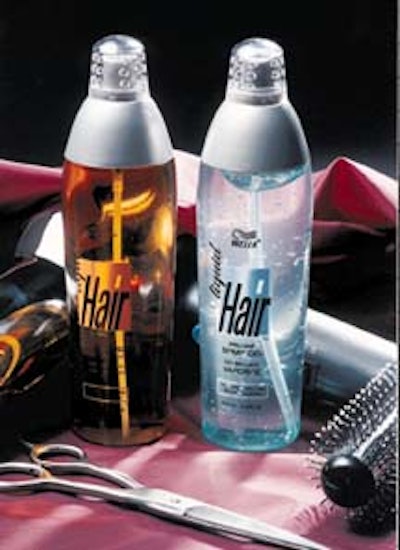 But about a year ago, the Montvale, NJ, firm bought custom molds for bottle production on this side of the Atlantic, and now the 200-mL (6.76 oz) polyvinyl chloride bottles are extrusion-blown by Progressive Plastics (Cleveland, OH).
The 231/2-g bottles are screen-printed by Progressive in two colors. Further distinguishing the elegant, tapered bottles is an injection-molded polypropylene collar. It's applied by automated equipment at the Richmond, VA, plant where both of Wella's Liquid Hair products, one a gel and the other a conditioner, are packaged. According to Wella packaging engineer Andre Bocco, the collar is still imported from Europe, as is the polystyrene overcap. Bocco would not comment on savings gained by the switch to a U.S. bottle supplier.
Wella sells its Liquid Hair products exclusively through salons across the country, where price points for the 200-mL bottle vary considerably from region to region.
Companies in this article