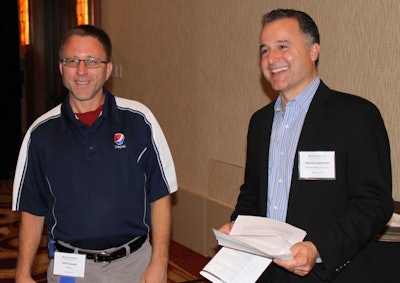 Attendees at The Automation Conference 2013, who ranged from controls and packaging engineers to systems integrators to supply chain vice presidents, heard from and talked with speakers representing PepsiCo, Campbell Soup Co., Nova Chemicals and others. Some attendees came in pairs representing different departments within the same company. Presentations gave way to hallway conversations that touched on what's really happening in automation, security, mobile computing and other areas.
"This conference is designed not only to make you think about the application of automation, but also to help you take action," said David Greenfield, Automation World editor in chief/director of content, and TAC event director. The dual track structure (Continuous Processing and Manufacturing/Packaging) addresses industry-specific concerns and allows ample networking time for attendees to get answers to pressing questions.
Greenfield urged attendees to follow the conference on Twitter (#TAC2013) to see what they might have missed, and look for more detailed information to appear online and in the pages of Automation World and Packaging World magazines, co-producers of the event. Here, using the crowd-source method of reporting, are a few highlights from day.
Patrick Reynolds (@Packcentric) reported that Joe Sanguinetti, manufacturing information systems management for General Mills, said the nice thing about cloud computing is how inexpensively you can get into it. Sanguinetti also said vendor capabilities must be vetted when making manufacturing data available enterprise-wide via mobile devices. He was speaking on his company's use of enterprise manufacturing intelligence (EMI) applications, and the system General Mills co-created with Invensys to enable cellphone access to customizable EMI reports. Sanguinetti said General Mills' SmartGlance mobile reporting application is estimated to save $25,000 per year per plant based on six pilot plants participating.
Aaron Hand (@AaronHand) described how Berkeley's Arnav Anand talked about how the Internet and software are disrupting the consumer world. "Companies that can't adapt to pace of innovation can't exist," he said. Anand is entrepreneur-in-residence, research scholar and instructor at the Center for Entrepreneurship at UC Berkeley and he spoke on how mobile and cloud computing are revolutionizing the manufacturing space.
Packaging World (@packagingworld) reported that Perry Piccard of Perrigo discussed wireless marriage of packaging materials and packaging lines, while Perrigo's Trent Martin talked about lean manufacturing.
This reporter (@AutoM8now) sat in on the Ask the Experts panel discussion concerning the use of Ethernet on the plant floor. This well-attended session ended with a range of cyber security advice from panelists, based on a question from the audience. Rod McGreevy of Wonderware Invensys urged listeners to have set of documented security processes and educate the teams on it. "And stay on top of it," he said. "Cybersecurity is a constant, evergreen process."
Eddie Lee, director of marketing for Moxa, agreed that cyber security is definitely a process. One bad practice and a key pitfall, he mentioned: "Managing the outliers. People get caught up in the worst-case scenarios and get overwhelmed with how to secure everything. Then they leave passwords on a Post-It note on the HMI screen. Take a practical approach to the [cybersecurity] process so it's continually improving."
Tabletop exhibits
Tabletop exhibits from conference sponsors provided other opportunities for discussions, and social media provided additional ways for attendees to connect. Tweets invited attendees to check out the EtherNet/IP demo from Advantech Automation, see groov in action in the Opto 22 booth, and stop by the ZPI table for a demo of Version 9 of their Data Collection System for packaging. Other vendor sponsors of The Automation Conference 2013 not already quoted or mentioned include Lenze, Festo, Anixter, Beckhoff, Belden, Eaton, Eplan, Hilscher, Kepware, Red Lion, Siemens, SMC Corp. and Turck.
The Automation Conference, running May 14-15, 2013 at the Chicago Marriott O'Hare, is produced by Summit Media Group, which publishes Automation World and Packaging World magazines.
Companies in this article