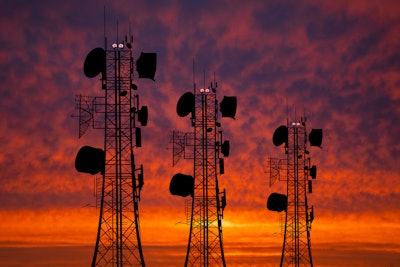 As the need to remotely monitor and manage large numbers of connected assets increases, wireless connectivity in industry continues to grow in importance. However, many current wireless and cellular networks lack the data transmission rates, reliability, and low latency required for mission-critical—industrial applications. In the case of technologies such as centrally controlled autonomous mobile robots, even small amounts of latency cannot be tolerated.
Faster data transmission rates also allow for large quantities of data to be collected from intelligent field devices and enable live audio-visual remote assists to be shared with frontline workers via augmented reality (AR) headsets.
5G, the latest cellular technology in the LTE (Long-Term Evolution) family of telecommunication standards, may help to surmount these issues. While other attempts have been made to integrate cellular or other wireless networks capable of meeting the needs of industrial use-cases—such as Wi-Fi, Bluetooth, and Zigbee—these deployments have often been hindered by reliability and security concerns, as well as limitations regarding the number of devices supported and communication range. By contrast, 5G offers high data transfer rates, low latency, and a broad reach, while promising to be both secure and nearly universally supported.
Still, new technologies like 5G often face adoption headwinds. Many companies are slow to adopt them until real-world applications have been demonstrated. As a result, jointly funded pilot projects and collaborations between private and public sector stakeholders often prove vital to accelerating technological innovation.
---
---
One such endeavor is a recent partnership between steel provider ArcelorMittal France, telecommunications company Orange Business Services, and 5G supplier Ericsson. Supported by the French government in connection with its 2021 French Recovery Plan, this 5G Steel initiative will address industrial use cases of 5G adapted to ArcelorMittal France's specific challenges and business requirements. Ericsson will provide 4G and 5G network technologies and Orange Business Services will contribute its expertise in integration and support.
Specifically, the 5G network will provide: Extensive coverage for all of ArcelorMittal France's industrial sites, both indoors and outdoors; high data throughput for all connected devices; low latency to support the use of autonomous vehicles and other remote-controlled machinery; network slicing to accommodate each business' unique processes; and data security to ensure sensitive data remains protected.
The 5G Steel initiative will begin at ArcelorMittal's Dunkirk plant, followed by Mardyck in Hauts-de-France and Florange in the Grand Est area. Two key applications the initiative seeks to bolster are remote maintenance and autonomous vehicle control. In the case of remote maintenance, workers equipped with tablets will more easily be able to validate and record information directly to the company's information systems. In addition, AR will allow them to access documents, images, or live experts remotely. Regarding its use of autonomous vehicles, ArcelorMittal will be launching the first autonomous train on its private 5G network with the goal of putting it into service in 2023. This train will be used to transport products between various stages of manufacturing at the company's largest sites.
---
---
Companies in this article