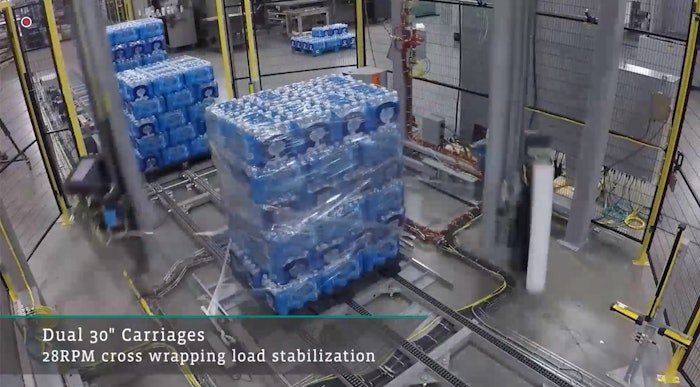 Orion Packaging's new Dual Carriage MA-DX2 stretch wrapping system builds and improves on the company's previous MA-DX stretch wrapper, which is still a popular model for the company. The MA-DX2 uses dual 30" Insta-Thread film carriages and 28RPM counter-balanced rotary arms, which allow it to push load throughput up-to 100 pallets an hour. The MA-DX stretch wrapping system incorporates a superstable 4-leg design that can be found in some of America's top Fortune 500 manufacturing and distribution plants, according to the company.
"The MA-DX2 will save money and gain consistency in wrapping, which guarantees safer transport," said Craig Zelasko, product line manager at Orion Packaging Systems during the company's PACK EXPO Connects demonstration. 
With a standard 260% load stabilizing pre-stretch, the MA-DX2 incorporates a second rotary arm and film carriage on the opposite side of the load. The opposing carriages apply the film in a crisscross pattern that not only improves speed, it also provides additional stability. The Insta-Thread carriage also uses a sophisticated photo eye that senses even difficult colored and reflective loads. Sensors also detect if the stretch film breaks or runs out and will pause the system.
The large format, user friendly and password protected IntelleVue HMI is incorporated in a free-standing pedestal that improves operator's line of sight of the entire process. The Allen Bradley Series PLC controller provides maximum flexibility and reliability. Low maintenance and long lasting AC motors are incorporated throughout with Variable Frequency Drives (VFD).
The MA-DX model uses a rotary slip ring that is virtually maintenance free. The fully sealed unit dramatically reduces the maintenance associated with non-sealed slip ring assemblies guarding against dirt, dust, and debris. The rotating arm(s) are supported and driven by a 20" precision ring bearing. The chain and sprocket drive includes soft start and stop for minimal wear and tear on the drive system. Major components are within easy reach for fast maintenance and service.
Companies in this article