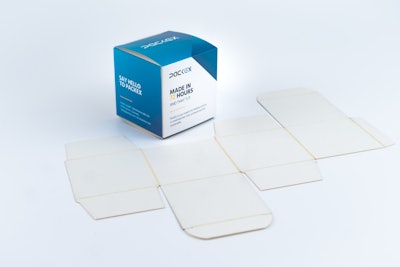 The firm has founded PackEx, a fully owned subsidiary at a new facility in Worms, Germany, that specializes in the production of folding cartons in small and very small batches. For quantities as low as a single carton, printing is done on an HP sheet-fed 30000 digital press. For larger print runs, a sheet-fed Heidelberg Speedmaster XL 75 Anicolor 2 is deployed. The Anicolor inking unit technology on this offset press, says Heidelberg, brings 50% shorter makeready time and 50% higher productivity in the press room, which makes it especially suitable for the short runs and fast job changes that are inherent in a web-to-pack concept.
Currently, no digital embellishment technology is in place, though PackEx Director of Operations and co-founder Julian Erhard says it's being looked at closely and that such an addition would fit in easily in the Worms facility. Scoring and die cutting, however, is in fact done digitally on a system from LasX.
Customers can place their orders with PackEx on a web-based software solution and receive folding cartons in just a few days. This is much faster than the several weeks often needed by companies that use conventional production methods. PackEx relies on a largely digital business model and state-of-the-art technologies. Orders are combined in automated processes, printed together on collection sheets, and then scored and die cut by way of the LasX digital laser technology. This tool-free workflow is what guarantees speed and flexibility in production. Folding cartons are then delivered by parcel service as opposed to the conventional transport approach on pallets in trucks.
Worth noting is that unlike parent company August Faller, PackEx aims to serve brand owners inside and outside of the pharmaceutical and life sciences sector. But no doubt pharmaceutical manufacturers will remain a key target customer because they can benefit greatly from what PackEx can offer them. Ever-shorter product lifecycles mean that they must get their drugs to market faster than ever before. The number of pharmaceutical products in very small batches, like "orphan" and biological drugs, is also on the increase. Companies can purchase their products from PackEx quickly, cost-effectively, and professionally in very small batches for serially-produced approval samples for drug acceptance, for example, or as samples for sales and marketing purposes – and this significantly shortens the time-to-market of the product.
Existing customers from the pharmaceutical industry can also take advantage of the PackEx offer by contacting August Faller as they usually would do. "This means that they still have only one contact channel, so they can rely on their proven and certified supply chain partner," says Dr. Daniel Keesman, Executive Managing Partner of the Faller Group. Thanks to the Worms company's digital production, Faller can now offer several additional service packages, including the organization of the entire ordering process, logistics process management with repackaging on pallets, and even an additional quality inspection. The result is cost-effective, professional folding cartons of batch size 1 and upwards – and they can be delivered in roughly 5 days or less.
A conversation with Director of Operations Erhard leaves one with the impression that this is a startup to keep an eye on. Non-disclosure agreements prevent him from providing details about a number of things that PackEx, LasX, Heidelberg, and various ink and varnish suppliers have collaboratively developed. But he indicates that the Heidelberg Anicolor technology, though in and of itself not terribly new, is being used in a way that makes it a "worldwide number one." Inks and varnishes, some from Heidelberg and some not, make it possible to set up a job in less than five minutes, for example. He also says that one of the things customers have been especially keen on is thatthey can eliminate warehousing supplies of cartons and rely instead on a virtual warehouse in the cloud that is part of the PackEx B2B app. Not only does this save them warehouse space, it also eliminates obsolescence that sometimes requires the wasteful disposal of cartons that are no longer current.
Erhard sums it all up this way: "There have been a few sleepless nights, that I can tell you, but what we've developed is something we're all very proud of."
Companies in this article