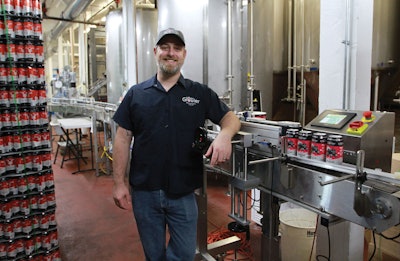 With five years now under their belts, Urban Growler Brewing's co-founders, Deb Losch and Jill Pavlak have been slowly building their brewery through quality products and local participation.
Minnesota's first woman-owned brewery, the St. Paul facility features a taproom, an on-location kitchen, and an outdoor beer garden. There are also indoor retail spaces that can be rented for hosting meetings, weddings, and local social gatherings. The building itself lends itself to being a gathering place. This brick-and-timber space once was home to the St. Paul Police's horse stables in the late 1800s. It then became a manufacturing facility for wooden skis and hockey sticks—after all, this is Minnesota—as well as other warehousing in later years. Designers retrofitted the facility to support modern brewing while preserving the character of the old building.
Lately, much of its focus has been on a concept that Losch and Pavlak callPlow to Pint.They found their customers would rather drink locally and appreciate locally-sourced products. Some of the recent favorites include Blueberry Wheat, featuring blueberries harvested from a family-owned farm in Princeton, MN, and an Oak Aged Imperial Ale that uses classic oak barrels and Frontenac grapes gown outside Red Wing, MN. On a farther-flung project, they have even worked with the University of Minnesota and the Rainforest Alliance in Guatemala for a collaboration brew using the sustainable ramon nut in a stout.
Flagship brews include traditional beers like their CowBell Cream Ale, Midwest IPA, and De-Lovely Porter. They also brew an interesting Kentucky Uncommon Ale and a "West-Coast-hops-meets-East-Coast-maltiness" Golden Hammer IPA.
The brewery is agile enough to brew small batches and experiment with limited releases. Last year, Urban Growler brewed more than 40 different beers, some as small as half-barrel experiments. Most end up in the taproom where their popularity is voted on by their customers' consumption. The more popular winners then might end up as a seasonal or limited release for distribution in 16-oz cans.
The 10-barrel brewery pushed out 1,900 barrels in 2018, up from about 1,250 in 2017, and is looking to blow past that number in 2019. Currently, distribution is limited to bars, restaurants, and liquor stores in the Twin Cities area; grocery retail can't sell beer in Minnesota. This means there's not much by way of secondary packaging at the moment but look for that to change.
"It's a point of discussion for the coming year," Losch says.
Labeling small-batch beers
While most of the flagship beers at Urban Growler are filled by a Wild Goose system into preprinted cans bought in bulk from Crown, most of the new small-batch creations are getting canned and labeled using pressure-sensitive, custom-designed labels. This allows the brewery to be more flexible while doing a small batch economically and using eye-catching designs for their new brews.
Urban Growler has been canning approximately 150 cases of their small-batch seasonals every few months. Because of their success, they are now ramping things up to 250-case batches of their special beers once a month. To do this, the brewery had to invest in a new automated labeling system from Weber Packaging Solutions. They explained to the Weber rep that the brewery was growing and would need to be able to scale up to the larger brew runs at higher speeds in the future. Reliability was key to a new system, and it had to be easy for the staff to operate.
The result was a PackLeader 501 wraparound labeling system that fit into their existing canning line. It only needs to be switched on when operating; volume-printed cans not requiring labels pass through the machine in-line. And since Weber is one of the largest label manufacturers in the U.S., the company helped Urban Growler get their custom labels printed for the first few runs. Their first two brews off the new line were a Rhubarb Wit and their Kentucky Uncommon.
"What we do is we over-label the printed cans," Losch says. "What that allows us to do is use our flagships as the base can, and then over-label with a pressure-sensitive label. We've actually modified our can design so the top of the neck is generic, demonstrating only our brewery name. The top logo then applies to whatever label is wrapped over the can."
Head brewer Jesse Pittman, who came to Urban from Swamphead Brewing in Florida, was there for the installation and managed the first runs.
"Experience has taught me you need good gear with a simple interface that is easy for everyone to run," says Pittman. "It took no time at all to teach the other brewers and staff how to work the PackLeader 501."
The line
Urban Growler uses a Ska Can-i-Bus depalletizer with a twist rinser and a measure of conveyer to deliver 16-oz cans to a Wild Goose 250 filler and seamer. This machine runs at about 38 cans/min once it hits its stride. Cans then get a rinse and a blow dry before being marked with a Pack Date on a Markem Imaje ink-jet date coder. Conveyors move cans past the aforementioned PackLeader station for labeling if necessary, then cans are bundled into four-packs with plastic ring carriers. Uniquely, these are sustainably-minded, photodegradable four-pack rings from Mumm. Mumm also supplied Urban Growler with an automated 350 ring applicator machine. The rings are fed into the Mumm on a large spool housing the web of can rings. The four-packs are then hand-packed into 24-count, hand-erected trays, hand-palletized at 12 cases per layer, and taken to coolers. Urban Growler self-distributes, so the sales team loads its trucks from the cooler as needed.
What's next
"Mixed four-packs in paperboard cartons might be a potential growth area. We also have a Great Pride beer coming out. With this labeler we can do a lot smaller batches. So that's really providing some flexibility and opportunity for us," Losch says. "We want to grow to be one of the top-10 breweries in Minnesota by reputation. We want to continue to build our brand by bringing people together with our quality products and innovation."
Companies in this article