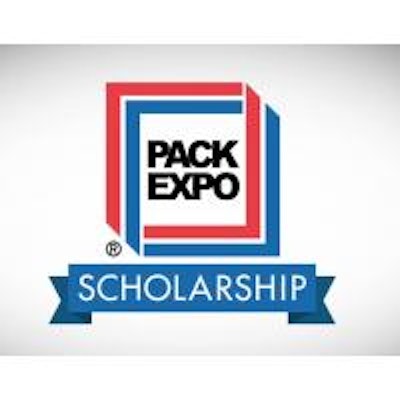 In 2017, PMMI awarded over $140,000 in scholarships to support the development of a skilled workforce capable of moving the packaging and processing industry forward.
Each year through the PMMI Foundation, PMMI, The Association for Packaging and Processing Technologies, provides scholarships to students studying packaging, food processing, engineering and mechatronics at PMMI Partner Schools throughout the United States and Canada.
"As an industry leader, PMMI knows the importance of developing a workforce to advancing the packaging and processing industry," says Jim Pittas, president and CEO, PMMI. "We are committed to the future of this industry and want to spread the message that the packaging and processing industry is a great place for students to start a career."
As one example, at PACK EXPO Las Vegas 2017, $30,000 in PACK EXPO Scholarships were awarded to six students demonstrating a commitment to packaging and processing through academic achievement and extracurricular involvement. Meet these six winners in the latest video from the PMMI Foundation highlighting their successes.
The PMMI Foundation raises funds at industry-supported events like the PMMI Foundation golf tournament, PACK Gives Back™, the Amazing Packaging Race and generous donations from individuals at PMMI member companies and the industry.
Investment in the next generation of packaging and processing professionals is critical to the success of PMMI's mission. "We thank the industry for their continued support of the PMMI Foundation. By aiding students intending to join the packaging and processing workforce, PMMI demonstrates a strong commitment to bridge the skills gap created as industry veterans transition into retirement," says Kate Fiorianti, education manager, PMMI. "We're excited about these scholarships and new programs targeted at students in 2018."
Applications for 2018 scholarships are now open. Please contact Fiorianti at [email protected] for more information.