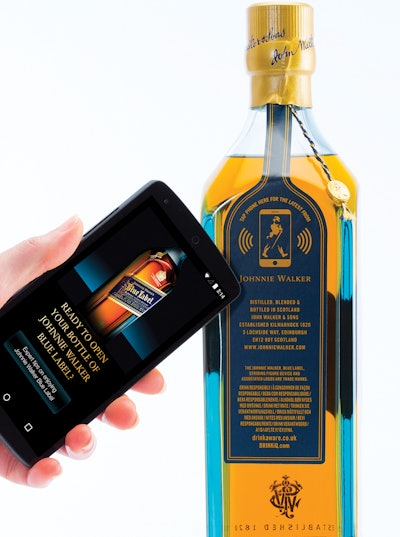 Brand owners who are smart in the ways of packaging are beginning to deploy a wide range of tools aimed at bringing shelf life extension as well as enhanced communication with the consumer. The change is bringing software developers into creative teams from the start of the design process.
Global brands including General Mills, Unilever, Nestlé, Pepsico, Danone, and others caught up with what's been happening in active and intelligent packaging at the recent Active + Intelligent Packaging Congress in Amsterdam, the industry's largest-ever annual congress, attracting more than 300 attendees. It was enough for 2016 to be marked the sector's "breakthrough" year, expanding with technology to monitor the supply chains, deter counterfeiters, and give brands what they really want: a direct line to consumers via their smartphones and a means to influence purchasing decisions and nurture loyalty through instant rewards.
According to General Mills Communications Manager Bridget Christenson, some General Mills brands have been participating in a pilot for SmartLabel, a QR based system. Christenson tells Packaging World the standardized, digital labeling program is sponsored by GMA (Grocery Manufacturers Association) and supported by 30 major companies.
Digimarc makes a break with the past and integrates the barcode imperceptibly into the graphic design so it covers the whole packaging surface. This improves efficiency "dramatically" at checkouts and allows brands to communicate with customers, says Javier Gonzalez, Senior Director of International Business at Digimarc, headquartered in Oregon, USA. "The connected package is the touch-point between brand and customer," he adds.
Kraft Heinz is working with a software company on easier to use, "frictionless" tools for mobile shoppers so they can access in-store special promotions while giving the brand owner insight into their shopping behaviour. But although the idea of frictionless interaction gets the industry excited, the cost is significant and rises as it improves. Some suggest it might be better to take a step back, focus on the underlying job to be done, and ask whether it needs a technological solution or simply some smart thinking.
"Smart packaging can be zero-tech," says Tom Lawrie-Fussey, Leader of Business Development at Cambridge Design Partnership (CDP), UK. It's possible to expensively monitor what happens in the supply chain, but something as simple as printing a picture of a TV on a bicycle box saved a savvy Dutch company losses through damage in distribution by 70 to 80 percent. Boxes for both products are similar in size and, as VanMoof expected, shippers handled a TV with much more care.
Use of sensors
CDP deploys sensors to support the early-stage design phase in evidence-based user trials. Several connected electronic platforms embedded or attached to packaging reveal how a user handles a product in situ in real time. This can show, for example, how a shampoo bottle is squeezed, tipped, shaken, and stored and whether the lid can be hard to open. Data analytics enable a brand then to adapt a design accordingly.
Today's technology makes it easy to re-order products and register durables, and brands can reward loyal consumers in return for reliable insight. Coming wireless mesh networks will make products able to "talk" to one another so it's possible to see what's gone wrong and where.
Lawrie-Fussey continues: "We're at the crossroads. Someone will go genuinely hi tech. I hope they will know what the gains are and find the most pessimistic person to convince. Planning for the next 5-10 years of advancement is a massive organizational decision and investment. Adding to the cost of packaging needs to be justified."
He considers the "hidden" technology in the multi-component Gatorade Gx hydration system justified, for example. It is currently used to improve the performance of elite athletes. A smart cap fitted with sensors and microchip tracks fluid intake and lights up when someone needs to drink more and sends live analytics to the coach via an App. Each 30-oz bottle has a pod of concentrated formula based on an individual's needs and a device to break and disperse the contents.
The Gatorade Gx sports fuel platform was first piloted with the Brazilian World Cup football team in 2014 and is now being used by professional sports teams across the NFL, NBA, and NCAA including the Boston Celtics, Kansas City Chiefs, and Florida Gators.
"2017 will see this expand to more teams and sports globally across Europe and Australia," Smart Design Marketing Director Kim Anderson tells Packaging World. She also confirms that Gatorade has plans to launch a version of the smart bottle to consumers in 2017.
Smart Design was and is the lead innovation agency on the Gx project, which grew out of earlier work Pepsico had done in developing the pod delivery system under the Drinkfinity brand. "The packaging and delivery mechanism of the Gx sports fuel solution was our vision, and we also generated and designed the smart cap, which has gone through several iterations since we first commenced the project in 2014."
Heineken's thirst for creativity
Heineken is thirsty to experiment with the kit of smart tools and threw a lot of them into Ignite, its first interactive bottle. A focal point for partying clubbers, it lit up with a tap from another bottle, sparked when someone drank from it, and had lights that pulsated to the beat of the music. The Dutch brewer went shopping for the next version of a smart beer bottle at the Active and Intelligent Packaging Industry Association World Congress, on home ground in Amsterdam. Nine companies entered into a pitch "battle," contesting to develop their concept with the Heineken design and packaging team.
"The brand is one of the least innovative brands in the world, hasn't speeded up the process for 100 years, [but] instead is creative with everything else around it," says Mark van Iterson, Director of Global Heineken Design. Promotional bottles have celebrated cities with printed holograms, and a link to the James Bond Spectre film was a "licence for creativity."
"We stay thirsty for creativity," says van Iterson. He cites Heineken's returnable bottle in the French market, which has a unique code so the current user can read stories of people who've been drinking from the same bottle. This collecting of experiences and relabelling the bottles "reforwardable" is making returnable bottles "cool" again, in his view.
A forensic-level authentication technology developed by Nanomarker, a subsidiary of Potsdam Specialty Paper Inc., integrates a micro size logo, design, or code into packaging and products. Target customers are in high-value foods, beverages, and pharmaceuticals. A suitable polymer substrate for the application is coated and the technology applied ready for production without disrupting existing supply chains. CEO Michael Huth was a Heineken challenge contestant. He proposed a game called Find our Founder, which involves integrating a 1200-micron portrait of Gerard Adriaan Heineken on the label of a Heineken bottle.
Near-field communication (NFC) is an enabler in printed sensor technology. In the Diageo Johnny Walker connected smart bottle supplied by Thinfilm, it detects if a bottle is sealed or opened and sends offers and exclusive content to a consumer's smartphone. The same NFC wireless tagging system supported Albany, CA-based Hopsy to become the USA's first local craft beer marketplace with a doorstep delivery service. OpenSense tags give microbreweries a direct link to customers and ability to differentiate their brands says Erwan Le Roy, ThinFilm Executive Vice President, NFC business development. He tells Packaging World Italian olive oil producers in Tuscany have begun to pilot the system to stem the flow of fake extra virgin products entering the market.
Temperature sensing smart labels are due to launch in 2017, to provide simple indication of the temperature of perishables during the supply chain. Targeted markets include the pharma, fresh meat, fish, dairy, and wine sectors. "It's an assurance of quality for consumers that retailers can monitor and verify at the point of receiving whether the products were in the right temperature range during the total supply chain," says Le Roy. Labels can be attached to secondary packaging or primary packaging at item level.
Thin Film on the move
In early 2017, having moved the US headquarters to San Jose, CA, ThinFilm will fire up a new, high-volume roll-to-roll manufacturing line, to increase front-end production capacity to five billion smart tags per year, equivalent to around US$680 million in annual revenue. This is in readiness for an accelerated acceptance of NFC that ThinFilm is envisaging.
Elsewhere, maintaining healthy levels of hydration is the idea behind a water-bottle cap that sends out alerts when it's time to drink by blinking, vibrating, or sounding an alarm. The Water.Reminder smart cap by Water.io, of Israel, keeps track of when the water bottle is open or closed to avoid false alarms, and settings can be changed to specified regular intervals. Sensors can also respond to touch or light.
"We have a few commercial agreements and the products will start to roll out to the market during 2017. The first products to be on the market will be in the hydration space, both for bottled water and for energy and sports drinks," says Nimrod Kaplan, who adds that he is unable to disclose the brands.
"We are now in the process of working to commercialize some of our pharma/medical adherence products," says Kaplan. "The ETA to the market is not yet clear." There are systems for counting pills in a bottle or blister pack, and a smart cap to monitor the syrup level. An adherence cap prompts a patient to take the next dose; when it's time to re-order, messages can be sent to the pharmacy or doctor. A blister solution identifies the medicine type, monitors dosage, and communicates reminders or an overdose alert by smartphone.
Out of Japan comes a temperature-sensing, UHF passive RFID tag that is not exactly a new concept, but when combined with a chemical reaction it offers a unique capability, claims the Japanese developer of TEMPiDENCE technology. A reaction is triggered when the temperature crosses a specified range, yet the reading after an event continues to provide both identification data and temperature history. "This fact makes our product very unique," says Koji Konosu, manager of overseas business development at Tokyo-based NiGK Corp. "The antenna part remains to generate power to drive the main function as an RFID tag after cutting the loop. This is made possible by a chemical reaction between our specially developed ink and a conductive paste that's put on the loop." An NFC version and tags with other temperature settings are being developed for sectors including pharma, chocolates, wine, and paint. The tag on the market works between 86-140 degrees F (30-60 degrees C).
And finally, out of Scotland comes an elapsed-time indicator to encourage consumers to enjoy food and beverages while they are at their best. "The UWI label utilizes the universally understood colors of green for good and red for bad. It can be calibrated to specific requirements and tuned to minutes or hours, days, weeks or even months," explains Pete Higgins, founder and CEO of Edinburgh-based firm UWI Technology. The "tamper-proof" label is activated automatically on opening the container, and once started cannot be stopped.
Deep insight into consumers and the supply chain is an exciting prospect. But it's worth heeding a warning to handle connected packages and communicative technology with care and take the leap knowing not only the issues to be solved but also what to do with the new well of knowledge.