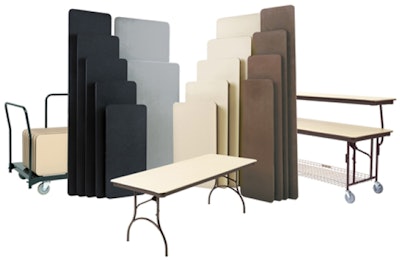 MityLite, Inc., an Orem, UT-based manufacturer of durable, lightweight tables, chairs, and complementary products for event settings, has reason to break out the banquet furniture and celebrate. A radical transformation in its supply chain that began in 2008 as the economic recession challenged its market leadership has yielded significant benefits that have enabled the company to grow and thrive in the down economy.
To effect the transformation, the company committed itself to delivering on key operational drivers, including best-in-class lead times, quality, and on-time delivery, all while improving productivity and safety using lean manufacturing techniques. A primary part of MityLite's strategy was to implement the lean concept of a One Piece Flow workflow—a practice where product is moved from one workstation to the next, one piece at a time, without allowing inventory to build up in-between steps.
As part of this process, MityLite reviewed its packaging practices and uncovered an ideal opportunity to reduce waste and eliminate bottlenecks through the installation of an On Demand Packaging® system from Packsize LLC. The Packsize EM7-25 packaging system enables MityLite to create custom-sized cases in-house, on-demand.
Says company COO Brian Bowers, "The One Demand Packaging solution perfectly supports our One Piece Flow production environment by not only building what we need when we need it, but also packaging what we build, when we need it."
Existing processes slow delivery
Since it was founded in 1987, MityLite has established market dominance through the quality of its products, which include plastic, aluminum, laminate, plywood, and linen-less folding tables; restaurant tables; banquet, folding, stacking, and restaurant chairs; portable dance floors; staging; and partitions. However, in 2008 with the economic downturn, the company saw customer demand drop by nearly 40% year-over-year in its busiest months.
Says Bowers, "The down market caused strategic questions regarding MityLite's current products and forced us to move several products to lower-cost Asia-Pacific. To thrive in the down economy, we realized we had to be more competitive and utilize the talent of our entire team."
One pain point was the company's product delivery lead times—10 to 12 weeks in the busy season—which were often impacted by its case-packing process. The company stocked 45 different box sizes, with the box supplier managing inventory. If inventory was not closely monitored, stock outs could occur, delaying shipping. Another drawback was that under the box-supplier agreement, MityLite was only able to run a certain number of cases on any given day. "As such, we were committed to holding 'x' number of boxes on our shelves," explains Bowers. "This required tremendous manufacturer/supplier coordination." The manual process of setting up the cases and taping them also wasted valuable operator time.
Another issue was the packaging material footprint. Keeping an inventory of corrugated case stock meant that a significant amount of warehouse space was taken up with the material. For one slow-moving table SKU, MityLite needed to warehouse 231 cases each year. The corrugated material for such low-usage items not only resulted in more cost, but over the course of a year, the cases could become damaged "just simply from the retrieval process that occurs over time," says Bowers.
Case maker improves operations
In summer 2010, MityLite began using the EM7-25, a CNC-controlled converting machine that creates custom cases from Packsize's proprietary z-Fold™ continuous corrugated stock, a 97% recycled material that can be creased, cut, and scored into an almost infinite number of case sizes and styles. The EM7-25 can produce cases in widths from 10.63 to 94.49 in., in any length, and in thicknesses from 0.08 to 0.31 in. (i.e., E, B, C, B-E, and B-C Flute).
The EM7-25 is available in both a single-track and a multi-track version, which allows it to accommodate either a single 7.87-ft track of corrugated z-Fold, or up to four corrugated tracks of differing widths, respectively. Using an optimization model based on consumer volume, Packsize recommended that MityLite utilize four tracks. MityLite went with three that can produce case sizes for products that range in size from a 30-in. cocktail table to a 36 x 96-in. single folding table.
To create a custom-size case(s) for a MityLite product, the operator selects and enters the size and number of boxes needed into the EM7-25's keypad. The machine automatically cuts the corrugated board to size, complete with score lines and a glue tab. The flattened box is then delivered onto an outfeed table, where another operator inserts the box into an automated gluer. The MityLite products are then inserted into the custom boxes, which are sealed and staged for shipment.
Of the 45 case SKUs that MityLite previously stocked, the Packsize machine is now producing 29 of them, including packaging for all of the company's tables and some of its chair products, reducing the footprint of its corrugated stock inventory by 60%. The system is operating at a speed of one box every 1.42 min, "which is not even close to the maximum output," says Bowers, "so there is room to grow." MityLite's total output per 10-hr shift is currently 350 to 400 boxes.
Says Bowers, "With the switch from purchasing and storing finished boxes to building boxes on-demand with Packsize, we have enjoyed several layers of operational improvement and cost reduction."
Supply chain transformation
As a result of MityLite's supply chain overhaul, the company has seen extensive operational benefits, including an increase in productivity of more than 100%, a reduction in labor costs from 13.9% to 9.1% of sales, and an improvement in factory order completion, shipping accuracy, and on-time delivery from approximately 65% to 99%+.
But one of the accomplishments Bowers is most proud of is MityLite's ability to compete with Asian suppliers and bring products back to the U.S. for manufacturing at the Orem facility. Over the past five years, the company has introduced more than 30 new products and is on track to launch another seven new products or line extensions in the next year.
And part of this success can be attributed to the company's new On Demand Packaging system. Concludes Bowers, "Certainly the Packsize implementation was an important component in our overall operations strategy and continues to support our advancements toward a One Piece Flow."
Companies in this article