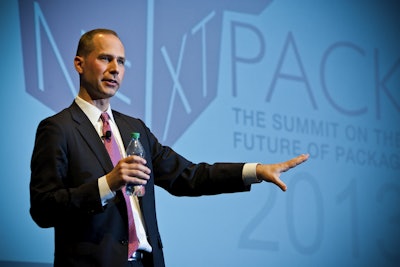 Everyone knows that packaging has the important functions of transporting products safely and attracting consumers. However, we are now becoming more aware of the possibilities of brand innovation through package design. In order for the packaging industry to reach the next levels of growth, sharing information and helping guide the next generation of packaging professionals is critical.
In early May, the fourth annual NextPack: What's Next in Packaging? event took place in Atlanta, bringing together current and upcoming industry leaders, all with the goal of shaping the future of packaging. Nearly 300 packaging professionals attended the conference, which was held at The Coca-Cola Company headquarters and presented by the Institute of Packaging Professionals' Southeastern Chapter.
This year's NextPack event included engaging speakers, inventive ideas from students, and a range of packaging material and service exhibits from the chapter's corporate sponsors.
The diverse group of attendees was made up of designers, engineers, marketers, and operators, from a variety of backgrounds. However, the group was unified in that they all see packaging from a slightly different perspective than most—not as a thing you throw away once you get the product home, but as a valuable part of the product itself, and a part with a lot of potential for growth.
Among the insights and ideas shared at the conference from the panel of speakers were the following:
• When it comes to customer satisfaction, of course the quality of the product is the most important factor. But the brand and the packaging of a product are almost identically important to consumers (12% vs 10%). Last year, companies in the U.S. spent $150 billion on advertising to leverage their brands; $500 billion was spent globally. However, the equally important packaging is still treated as "part of goods sold." The current objective is to reduce this cost every year to make it as close to zero as possible. This reveals a huge disconnect that leaves major opportunities in the areas of growth and customer satisfaction.
• "Only one in five consumers is very satisfied by their packaging; one in 10 is frustrated; and only 20% of consumers are very satisfied with the role packaging plays. We may be overly focused on aesthetics versus functionality. With functionality, we have the greatest opportunities." —Paul Spitale, director of Global Marketing, MeadWestvaco
• "Have empathy for those who will use the packaging and products. Think about the products you love to use and how the design of it influences preference and appreciation." —Bryce G. Rutter Ph.D., founder and CEO of Metaphase Design Group
• "Visuals speak louder than words, and to be memorable, you need to be different. A word message will always be trumped by an image, because it is easier for brains to connect with a picture than words alone." —Laura Ries, president of Ries and Ries; author, "Visual Hammer"
• "Big ideas for the planet can be successfully turned into commercial realities, but a long-term perspective is needed. The movement towards a PlantBottle package had to include recycling in the current infrastructure, and it could not disturb the recycling efforts of typical plastic bottles." —Scott A. Vitters, general manager, PlantBottle™ Packaging Platform, The Coca-Cola Company
As in previous years, one of the highlights of the NextPack event was the 48 Hour Re-Pack student competition. Entries were received from students in design- or packaging-related programs at recognized colleges and universities. Twenty-two schools participated, 230 students registered, and 39 teams submitted final designs.
Top packaging and design professionals from Kraft Foods, Walmart Stores, and Home Depot judged their work in the following categories:
• Bar soap
• Men's shirts
• Mouthwash
• Butter
"The 48 Hour Re-Pack Competition is a great way to showcase future packaging professionals," said Chet Rutledge, director, Private Brand Packaging, for Walmart. "This competition will challenge designers to blend function and form, sustainability, and material optimization all in a short time frame with a hard deadline."
Once the top 10 finalists were revealed, the top three winners presented their design concepts on the main stage. The student team from Clemson University took first place, winning $3,000 in scholarship funds for an idea to improve the packaging of dress shirts. The team developed a solution they called "MPressed"—innovative, decorative, and minimalistic packaging that presents a rolled dress shirt and provides an easy, one-step opening feature.
The second place honor was a tie between "Kiss My Face—Dolphin Mouthwash," by the student team from Rochester Institute of Technology, and "Refresh Mouthwash," by the student team from Virginia Tech. In addition, each winning team was invited to present their design idea at the 2013 Walmart Sustainable Packaging Expo later in May.