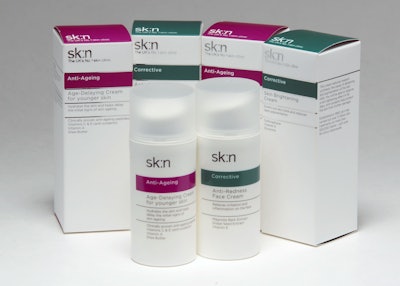 U.K. skincare clinic sk:n has selected a dispenser package for its new collection of dermatological products. The collection includes five treatment areas: cleansing, anti-ageing (yes, that's how they spell it), repair and protect, anti-blemish, and corrective.
Working with design house Pentagram, RPC Bramlage-Wiko tailored the Magic SL to create a stylish and user-friendly pack for sk:n that complements the family image of the other packs in the range, which include tubes and jars. The 30-ml container is finished with a matte surface and a matte lacquer overcap that reflect the high quality, dermatological nature of the products.
The eye-catching decoration for the packs features hot-foil stamping and a color-coded band to distinguish the different product types. A key requirement was for the band to be located in exactly the same place to match the other packs in the range to maximize on-shelf branding efforts.
The Magic SL allows convenient one-handed operation and delivers a 1-ml dose for controlled dispensing of the product.
"We were looking for a convenient and easy-to-use dispenser with an attractive appearance that would reflect the premium positioning of our products," says Julie Davies, sk:n's marketing director. "The Magic SL exactly met these criteria and is proving an excellent addition to our range."
sk:n's Web site explains that the company employs medical and skin specialist, uses clinically proven products and technologies in 39 state-of-the-art clinics nationwide, and partners "with the country's leading authoritative and government bodies," is "governed by the Care Quality Commission and the Independent Health Advisory Service 'Treatment You Can Trust' register and regularly work with the British Skin Foundation."