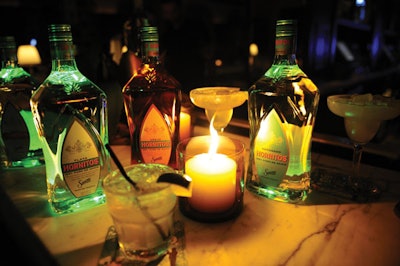 Designed for on-premise use, the bottles use a motion-activated LightPad sticker from Cognifex (www.cognifex.com) that illuminates the entire bottle when the bartender pours a drink.
Explains Hornitos associate brand manager Gary Ross, "We are always looking for new and unique ways to engage consumers and build brands people want to talk about. Consumers are becoming increasingly adventurous and are demanding fun, premium, sophisticated products that entice and entertain. Our new illuminating packaging does just that and helps Hornitos to stand out at the bar."
Beam reportedly invested $150,000 to implement the LightPad, which is applied to the bottom of the bottle and provides different types of illumination, including flash and strobe-light effects. As Cognifex CEO Bryn Griffiths explains, the LightPad is constructed of a tiny, 3-mm-thick LED-driven, circular electronic device attached with glue to the underside of a circular polyvinyl chloride label. The label, with a diameter larger than that of the electronic device, is designed to adhere into the recess of the base of a standard, 12-oz or larger bottle. The LightPad is resistant to temperature and humidity extremes, and can be printed with a brand-marketing message.
Upon receiving the Hornitos bottle, users remove a pull-tab that allows the LightPad to operate. Once the LightPad is activated by motion, it is designed to stay illuminated for two minutes after the motion stops. In terms of battery life, rather than engineering the LightPad to last for a determined time period, Cognifex designed it to last for a specified number of pours from the bottle.
According to Ross, the illumination effect has caught the eye of more than a few consumers. "It is definitely attention-grabbing and helps Hornitos stand out on the bar," he says.
In conjunction with the LightPad-equipped bottle promotion, in July Beam also employed interactive mobile marketing through a magazine advertisement to attract tech-savvy consumers to its Hornitos brand. To learn more about the growth of interactive mobile marketing, particularly in relation to packaging, read the main article.
Companies in this article