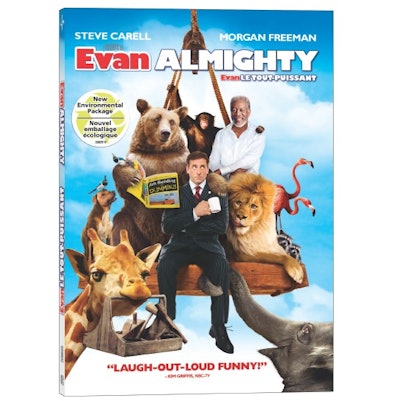 The production for Evan Almighty held the distinction of being the first feature film to have a carbon-neutral footprint. Director Tom Shadyac's approach included the use of bicycles and the planting of 2,000 trees to offset the film production's carbon emissions. Universal Studios Home Entertainment (USHE) Canada, Toronto, decided to continue that green momentum by distributing the movie DVD in environmentally sound packaging. Instead of the typical polypropylene case, the film made its DVD debut in Canada in October in a slim paper case printed with earth-friendly inks. The packaging's greening includes:
1. The 19-pt paper offers Chain of Custody certification from the
Forest Stewardship Council
(www.fscus.org). That means that all materials used in the case have been monitored from forest to consumer and deemed responsible, including processing, transportation, manufacturing, and distribution.
2. Soy-based inks and a waterless printing process are used for the package printing. Soy-based inks contain a much smaller amount of volatile organic compounds than conventional inks.
3. The DVD package does not contain any inserts—all information is printed directly on the case.
The DVD is held inside the case in a slit in a pocket formed by a folded section of the paperboard. Also inside, extensive bilingual copy details the green production of the film and of the packaging, complete with summary overview and as well as further details on the FSC certification and the use of waterless printing with soy inks.
Although a film shrink wrap provides protection, USHE Canada continues to research alternative environmentally friendly "wrap" methods to keep the DVDs theft-proof, according to the company's vice president of marketing Richard Bicknell. An EAS security device affixed inside the case completes the packaging.
Thin challenges
Bicknell notes that the special DVD packaging (3/16-in. thick) is far slimmer than a PP case, which is typically about 1/2-in. thick.
"This means a greater quantity of DVDs can be shipped to retailers in the standard shipping boxes, resulting in a reduction of post-consumer waste with regards to the shipping and display materials," he says.
On the other hand, the case was so thin that Bicknell says it could not be run through the sorting machines during packaging, so USHE Canada was forced to use a costlier, manual process. "We are looking at modifications or other solutions to eliminate this in the future," he tells
Packaging World
.
The eco-friendly DVD packaging was printed by
CJ Graphics
(www.cjgraphics.com) of Toronto, which is a highly environmentally enabled printer.
Bicknell says that there was an increase in cost to produce eco-friendly packaging for this release, but the DVD was maintained at the same $38.95 suggested price as USHE Canada's other DVD releases as part of it's environmental-driven commitment. "We are looking at purchasing a bulk quantity of FSC paper, which will help to reduce the extra cost," he adds.
Buoyed by retail support
Data on unit volumes or sales was not disclosed, though Bicknell is encouraged by the response. "Retailers were enthusiastically supportive of this initiative by calling out the eco-message in their flyers and on in-store signage," he says. "We were buoyed by their support. Consumer support is inline with expectations. That's indicative of the response we received from our consumer research in the summer, which indicated that purchase patterns would not change based on packaging. We are also in the process of conducting post-launch consumer research to help us refine our packaging and messaging strategies."
Bicknell suggests that "sequels" using similar green packaging lay ahead.
"This type of packaging is something we've been working on for some time now," says Bicknell, "and the timing was right for this particular release. Both Canada and the U.S. feel this is a step in the right direction, and we remain committed to incorporating environmentally friendly packaging in our releases. We will continue to pay close attention and listen to our consumers on this important issue."
Companies in this article