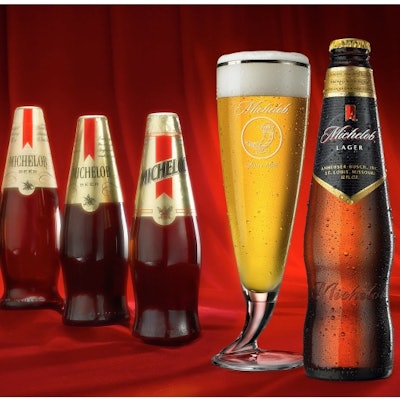 Anheuser-Busch Companies, Inc., St. Louis, MO, began rolling out in February and March 2007 Michelob Lager and Michelob Light in redesigned, easy-grip, teardrop-contoured bottles, based on the original package design launched in 1961.
Eduardo Pereda, director of marketing, Michelob Family, Anheuser-Busch, Inc, says, "The teardrop bottle was originally created to make the beer immediately identifiable in even a darkened bar or restaurant, and we're going back to those roots."
Suppliers and details regarding the glass bottles, crowns, labels, or related packaging equipment was not divulged.
In conjunction with the re-introduction of the teardrop amber glass bottles, A-B has launched 100% all-malt recipes for Michelob products. Pereda notes, "We think the tradition of the bottles and the all-malt recipes will give beer drinkers two great reasons to rediscover Michelob."
A third reason is elegant, custom-designed bar glasses, available for use in select bar and restaurant service venues, created by A-B in partnership with
Riedel Development USA
(www.riedel.com).
Companies in this article