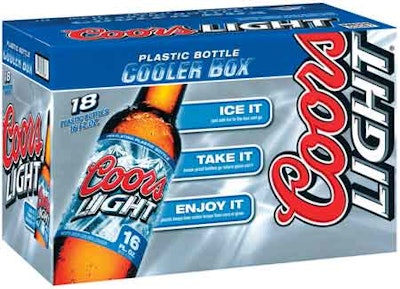 In recent years, overall flat consumption trends and ever-increasing competitive pressures in the U.S. beer industry have driven market leaders Miller Brewing, Anheuser-Busch (see sidebar), and Coors Brewing to rely more on packaging as a tool to boost sales and revenue.
In May, with the summer selling season approaching, Golden, CO-based Coors Brewing Co. introduced Cold Wrap™ bottles, which employ a wraparound body label on 12-oz glass bottles of Coors Light sold to on-premise accounts such as bars and restaurants. The idea is to keep the brew cold longer by reflecting the heat from the consumer's hand.
Coors was the first company to use the Cold Wrap label, which was developed through a collaborative effort by Outlast Technologies, Inc. (www.outlast.com) and Smyth Companies, Inc. (www.smythco.com). The back side of the label is coated with the Outlast technology to create a barrier between the container and hand.
Smyth produces the label out of Outlast material and a lamination of clear polyester to metallized polyester. The labels have a tactile finish. Roll-fed labels are shipped to Smyth's Golden, CO, labeling facility where they're applied to Coors' glass bottles on equipment from B&H Labeling Systems (www.bhlabeling.com). Outlast and Smyth worked together since 2004 on the project and filed a patent application together for beer labels. Jim Kellen, Coors Light brand manager, says the Cold Wrap bottle is exclusive to Coors for "at least one year."
"The Cold Wrap bottle is a fusion of rocket science and Rocky Mountain cold refreshment," says Kellen. "We're working with Outlast technology to implement the same insulators that were developed for space travel."
According to a press release from Outlast and Smyth, the Outlast technology "is a special, patented formulation of Thermocules™ or microencapsulated phase-change materials (PCMs) that are applied to fibers, fabrics, and coatings. Outlast continuously absorbs excess body heat." The Cold Wrap can be applied to paperboard, glass, plastics, or metal.
Is there an upcharge for the Cold Wrap compared to a more traditional beer bottle label, and how does Coors justify the added costs? Kellen responds, "Coors doesn't disclose specific financial details around any of its products or promotions but we can tell you that Coors is not passing costs on to the consumer."
Coors spokesperson Kabira Hatland says "we've received good consumer feedback. They really liked the enhancement that the wrap provided by keeping their beer colder while they're out in the bar or restaurant. And anything that keeps our beer colder longer is what we're striving for as a company."
Hatland says the Cold Wrap "absolutely" provides Coors with market differentation.
Cooler box, can liner, glass
For the summer, Coors again marketed a plastic cooler box that permits consumers to add ice to keep cold the 18-count packs of 16-oz plastic bottles of Coors Light. Several years ago the brewer introduced a 30-pt kraft paperboard box with a polyethylene film laminate for its 12-oz beer bottles. Then last year it rolled out the plastic version. Material specifications and suppliers are considered proprietary. "It was a popular package for Coors last summer, so it made sense to bring it back," says Kellen.
On the can side, Coors also introduced in May a blue-colored Frost Brew liner that's visible with the can's blue pull tabs and rims. "The vast majority of our consumers don't think or know that our cans have liners to protect taste," Kellen explains. "So we've made those protective liners visible so the blue rims and tabs clearly show consumers how we lock in the Rocky Mountain refreshment in every can."
Coors even introduced 16-oz Stay Cold glassware for on-premise accounts. Hand-blown by Bodum (www.bodum.com), the dual-pane glassware helps insulate beer from the drinker's hand to keep the beverage cold.
Hatland says that innovative packaging has always been part of the Coors strategy. "Starting with Bill Coors, who was the first to develop the modern aluminum can for beverages back in the fifties. As a challenger brand, we have to be very focused on how we continue to generate excitement with our consumers in the beer category. One of the ways we do that is to use packaging that's innovative."
Companies in this article