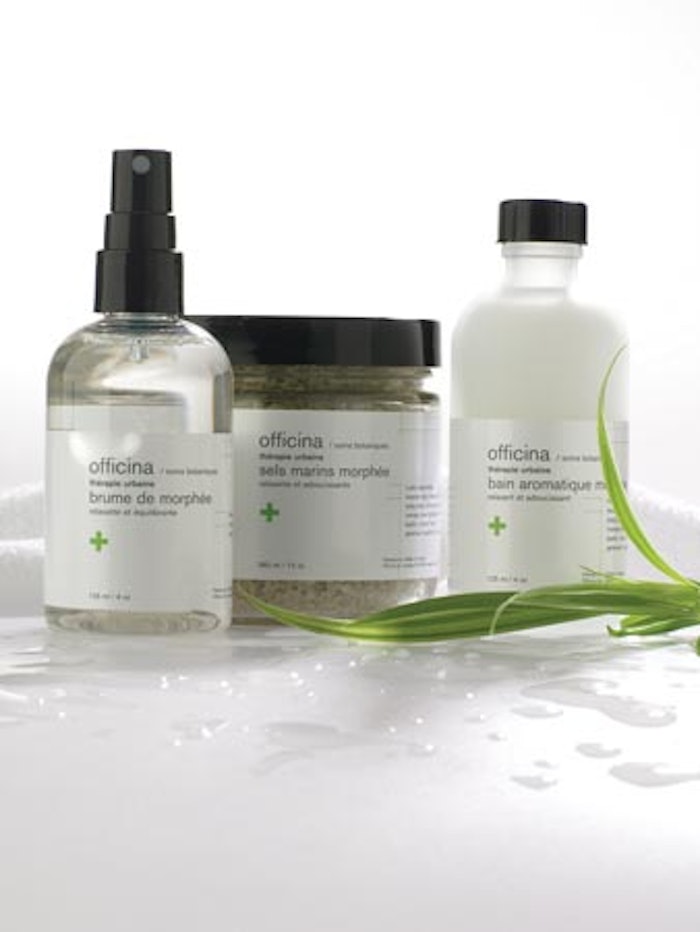 The company's Urban Therapy line of balms, foot spritzers, and body creams are formulated to relieve the challenges of urban living.
The products' challenging essential oils formulation led Carrier to glass and PET containers, with PET the material of choice for products used around the bath and shower. With the exception of the labels, all packaging components are supplied through the Cosmetic Packaging Group of O.Berk Co. (www.oberk.com). That encompasses 19 containers in sizes from 1 oz to 12 oz, along with associated components such as sprayers. Sizes for the eight PET containers range from a 1-oz clear PET Boston round to a 12-oz PET jar.
Officina's packaging complexities received a strong assist from O.Berk, according to Carrier. "Officina is a small startup company, yet O.Berk understood what I wanted and treated me as a major client." She had checked locally for container suppliers, but looked to the United States when minimum requirements were on the order of 100ꯠ units. That's where she found O.Berk
The polyester labels, screen-printed in two colors, were designed and supplied through Paquebot Design (418/682-2425). "The design shows that these are effective, natural treatment-like products," states Carrier. The labels feature bilingual copy, with French on the front and English on the back facing. Paquebot Design also provides the offset-printed product booklets that are attached via elastic band to the products.
The Urban Therapy line was introduced in late 2005 into upscale outlets like Ogilvy and spas in the Quebec area where they sell for the U.S. equivalent of $18 to $60. Officina also offers Internet transactions at its Web site. Carrier says she is eyeing introducing the products into the U.S. before year's end. At that time, the labels will be revamped to emphasize the English copy, she says.
Companies in this article