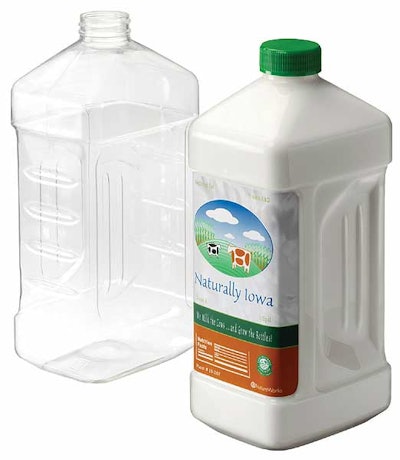 In November, Naturally Iowa Dairy, Clarinda, IA, announced natural and organic milk in bottles stretch blow molded of NatureWorks™ polylactide from Cargill Dow. Derived from corn, PLA breaks down in a commercial composting facility. The dairy's tagline: "We milk the cows and grow the bottles."
Production gears up this month for several varieties of PLA-bottled milk in half-gallon "grip" bottles, according to company president Bill Horner. The products will sell in grocery stores in Omaha, Des Moines, and Kansas City.
The start-up dairy cooperative also plans to introduce 11-oz single-serve PLA bottles in the spring with three milk varieties and a three-product line of drinkable yogurt.
Naturally Iowa is bottling at its own plant under two brands: Naturally Iowa all-natural milk and Rolling Hills Organic Farms organic milk. Horner also expects strong interest in the dairy contract packaging for private-label brands.
Horner credits NatureWorks PLA for helping its brand differentiate through packaging. "The natural bottle is our hook," he says. "Without it, we would only have half the story."
Horner says the PLA bottles will increase product visibility and sales, helping to overcome the distribution challenges of a smaller company. "We're a 'David' up against giants with bigger marketing budgets and distribution," Horner says. "But we're getting tremendous attention for pairing our natural milk products with bottles that are just as natural."
The 1¼2-gal bottles are produced by Liquid Container/Plaxicon using stock molds. The pressure-sensitive labels were being finalized at press time, but they will not be made of PLA as are BIO—TA's bottle labels, Horner says. Horner expects the 1¼2 gal to be a "shade higher" in retail pricing than competitive brands while the 11-oz size will be competitive with other single-serve milk products.
Horner expresses confidence in the products and packaging. "Our whole business rests on the acceptance of these bottles," he says.
Companies in this article
Videos from Universal Labeling Systems, Inc.