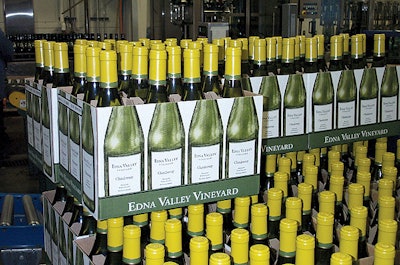 Edna Valley Vineyard has been providing 12-count trays to Costco since 2000. The Issaquah, WA-based club store chain requested that EVV improve the graphics for the kraft-lined corrugated tray.
The winery redesigned the tray in early 2003 to make it more attractive to consumers and different from printed cases from other wineries. The ¾-height tray presents to consumers the image of rows of bottles sitting on a shelf. The graphics feature an illustration rather than full-size bottle photography as used by other wineries. The previous outer liner used white copy reversed-out against a green background that simply stated "Edna Valley."
Thomas Selfridge, president and chief executive officer of Chalone Wine Group, EVV's parent company, says "Costco was pleased we took the extra step of finding a new way to show the bottles in the tray pack."
The corrugated tray reshipper is supplied by All West Container. The B-flute corrugated structure has a 42# mottled white outer liner flexo-printed in three colors. The trays are palletized and stretch wrapped for shipment.
See the story that goes with this sidebar: Efficiency tops 90% at Edna Valley Vineyard
Companies in this article