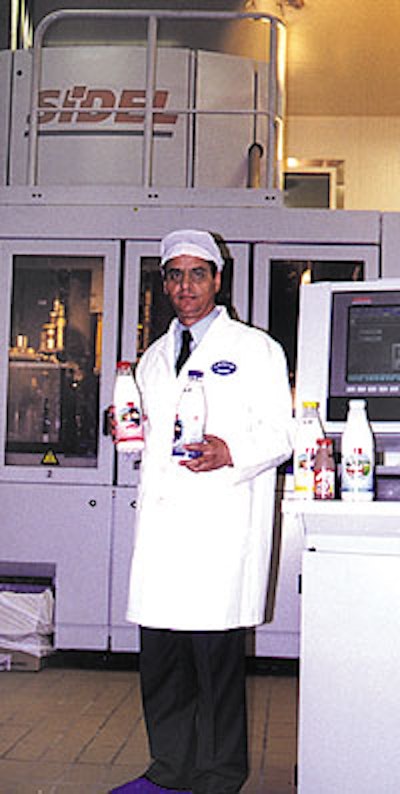 An ultraclean blow-fill system for PET bottles of fresh, pasteurized milk has helped Lanitis Bros. Ltd. of Nicosia, Cyprus, add sales of dairy products to its existing business in soft drink and juice beverages.
The launch of milk in PET was made possible with the addition of a new Combi monobloc blow-fill-cap system from Sidel (Norcross, GA). According to Lanitis and Sidel, the Cyprus application represents the first use of the Combi system in the world for fresh, pasteurized milk. The SRP 8/36/12 Combi system is part of a €10 million investment in the facility that includes a Sidel blower, and a filler from Remy, part of the Filling Systems Div. of Sidel. There are also a capper from Arol (Canelli, Italy), a Model 12 T S1 E1 labeler from Kosme (Roverbella, Mantova, Italy), a TSP30 shrink wrapper and P421.10 palletizing equipment from Cermex (Norcross, GA), and a model HS 30 Helix pallet stretch wrapper from Robopac (Villa Verucchio, Italy).
First operational last October, the Combi produces 1-L PET bottles for 3% whole milk, 1.5% reduced-fat milk, less than .1% skim milk, and more recently, a calcium-fortified milk. The machine also is used for 250-mL chocolate milk. The bottles are available in retail outlets in most of Cyprus, located in the eastern Mediterranean.
Doros Cleanthous, plant manager at Lanitis, explains that the desire for differentiation led to the company's selection of PET bottles for the firm's entry into the dairy market. He says that fresh, pasteurized milk, which is popular among the 670ꯠ residents of the island and among the nearly three million annual tourists, was previously sold only in brick paperboard cartons.
Unlike brick packs in the United States, the carton structure used in Cyprus does not include aluminum and is not filled aseptically. It's not intended to be a shelf-stable item. "In Cyprus," he notes, "long-life milk is almost nonexistent."
Like the brick-style cartons of pasteurized milk against which Lanitis is competing, the PET bottles sold by Lanitis will have a five-day "sell-by" date. In reality, the PET bottles can last to 15 days or so under reliable refrigeration, which is close to the sell-by dates commonly used for fresh milk in the United States. But a long-standing government policy in Cyprus forbids milk producers from coding fresh milk with anything beyond a five-day sell-by date.
Cleanthous is excited about the advantages he thinks the PET bottles bring to Lanitis. "We felt that if we entered the milk market with the same type of package, we'd be seen as just poor relatives of the competition, and it would have been difficult for us to persuade consumers that our product is better, new, and different," he recalls. "We needed a package to differentiate ourselves." The bottle provided that uniqueness.
"Secondly," he continues, "we selected a bottle because it provides maximum convenience. It's easy for consumers to handle, especially for small kids and the elderly. The bottle is resealable and can be put back into the refrigerator in any position, not just right side up."
Cleanthous relates that PET was selected "because it has the clarity of glass. You can see the white milk. When you buy milk in a carton here, it's in a box and not visible. Seeing the milk through this package gives consumers a more favorable and confident impression. It's a bit of psychology," he admits, "but it makes a difference. The bottle stands out from the others."
One of the reasons the bottle is noteworthy in the former British colony is that it presents a nostalgic allure. "The bottle resembles the glass milk bottle that was used many years ago when milk was delivered door to door. That was a tradition in Cyprus, and it was famous in England." For the same reason, similar "old-fashioned" milk bottle shapes have been used for plastic-bottled milks sold in the United States.
The only other bottle material considered by Lanitis was high-density polyethylene. "But HDPE is not clear and it's not accepted by consumers as a high-quality package" for milk, Cleanthous explains.
Asked about the cost difference between bottles and cartons, the plant manager says "bottles are slightly cheaper, or about the same price."
Ultraclean system
When asked why Lanitis invested in an ultraclean system to produce milks that are coded with a mere five-day sell-by date, Cleanthous responds: "We were concerned about potential contamination. This technology gives us very high protection from contamination. There's a laminar flow within the filling space, so the filling and capping takes place in a highly protected area, and the filling is done within a fraction of a second after the preform is blown into a bottle, which again protects from contamination. When we treat the preform with UV light, it destroys contamination on the preform." The bottom line is that the ultraclean environment helps the plant exceed hygiene standards required for filling fresh, pasteurized milk.
Cleanliness aside, another advantage of the Combi system is that it integrates blowing and filling. "It's more cost-efficient," says Cleanthous, "than a more conventional approach where bottle blowing is done off-line."
Lanitis only chose the Sidel Combi system after considerable research. "This equipment is used extensively for mineral water [by other companies]," says Cleanthous. "Our research included visits to exhibitions such as interpack, Interbev, and other European shows. We showed interest, and with some process improvements, Sidel made the system so that we could utilize it for pasteurized milk. We began production in October 2001."
The Combi system is fed with preforms, purchased from a local supplier, through an automatic feeding system. Preforms are treated with UV light to destroy any microbiological contamination, and with sterile compressed air to remove any contaminants. The preforms are directed into a heating oven where they're heated to an appropriate temperature and then fed into the blower section of the Combi system.
The eight-cavity blower receives the treated preforms and blows them into bottles. In a fraction of a second, bottles are transferred to the Remy machine and filled with the fresh, pasteurized milk. The filled bottles are then transferred to the capping station where they are capped with plastic closures treated with UV and sterile air. All of these steps are completed within the Combi's enclosure, which is under laminar flow with a strictly controlled environment.
The filled bottles exit the Combi, are coded, then transferred on low-pressure conveyors to the labeler, then to the shrink wrapper. Bottle multipacks are then palletized, stretch-wrapped, and transferred to refrigerated sections of stores.
Controlled volumes
The Sidel equipment is rated to produce up to 11겨 bottles/hr, 24 hours per day, seven days per week. Lanitis achieves that speed, but faces raw material availability constraints that limit the company's efficient use of the equipment.
"The supply of milk is controlled by a 12-person milk board that's appointed by the government," Cleanthous explains. "This board is responsible for collecting the milk from the farmers in Cyprus [and allocating it] to [milk producers in] the industry." He says that competitive milk producers are part of the board, further complicating the milk supply. He estimates that Lanitis currently enjoys about a 25% share of the fresh milk market in Cyprus. "We believe if we had enough supply of milk we could own more than 50 percent of the market with no difficulty. So right now, the line is not utilized to the extent we would like because there is not enough milk available." Still the line runs six to eight hours a day, five days per week, producing around 376ꯠ liters during that time period, according to Cleanthous.
He also notes that the issue of milk supply should be resolved at least six months before Cyprus joins the European Union, which is expected to take place in January 2004.
Cleanthous also suggests that EU membership would lead to a change that would allow Lanitis to guarantee at least a 10-day shelf life and mark the bottles accordingly, creating another competitive advantage.
As for consumer reaction to the new Lanitis milk, Cleanthous has this to say. "Consumers like the milk so much, it's usually sold from store shelves around midday on the day it arrives at the store."
Although he admits to being somewhat frustrated by the fact that not enough milk is available to his firm, he says he's pleased that Lanitis has moved into the milk business. "If you don't take intelligent risks and be innovative, your company will never go anywhere," he states.
Companies in this article