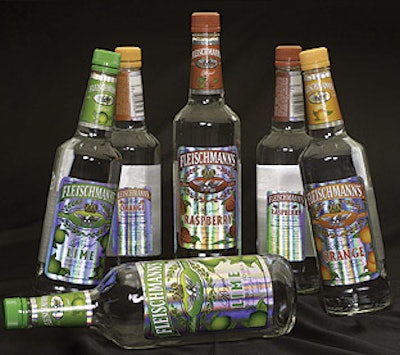 So the firm specified holographic labels on the front, back, and neck of the flavored-vodka bottles, which come in three sizes. The 750-mL and 1-L bottles are glass, while the 1.75-L is PET.
"We wanted something that would add a little pizzaz," explains vice president of marketing Jack Kavanagh. And the upcharge compared to more conventional options? "Basically insignificant," says Kavanagh.
The attractive cut labels are cold-glue applied at Barton Brands' Owensboro, KY, plant. Proma Technologies (Franklin, MA) provides the Holoprism® holographic paper that is printed by Fleming Packaging (Peoria, IL). Fleming uses a sheet-fed offset press to print the labels in six colors.
Launched last July, the flavored vodkas are available in markets where the Fleischmann brand is established, which puts them in about half the country. —PR
Companies in this article