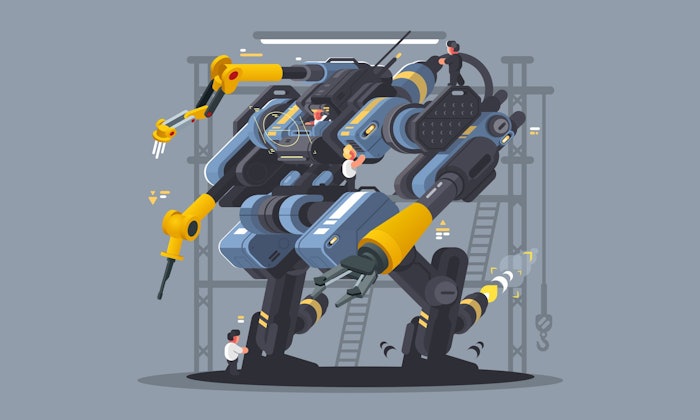 The use of robotics in the industrial space has exploded. Long a staple of the automotive industry, robots are getting into new areas of operation such as retail, distribution and order fulfillment, often working alongside humans in the form of collaborative robots (cobots). Non-automotive robot orders grew 20 percent in the first nine months of 2017, compared with 14 percent growth for automotive, according to the Robotic Industries Association (RIA).
"Non-automotive is booming," says Bob Doyle, RIA's vice president. "New robotics technology and apps that previously did not exist are now available at cheaper price points." Robotics users are able to achieve faster ROI, putting robotics within reach of small to mid-size enterprises for the first time.
Along with this growth, industries new to robots are finding that new environments call for new capabilities. Applications such as pick-and-pack in the retail, food and beverage and logistics spaces demand more flexibility and intelligence than traditional industrial robots needed. Distribution and order fulfillment need to push more product through a facility.
"Being able to push it through the operation when the demand comes in means you have to be very lean and cost-effective," says Stefan Casey, vice president and director of engineering for Applied Robotics, which makes grippers, tool changers, collision sensors, finishing tools and compliance devices. Organizations in many different industries are looking to robotics to help manage these demands, he adds.
New roles for robots bring end-of-arm tooling (EOAT) into the spotlight with a crucial part to play. From servo grippers and collision sensors to tool changers and finishing tools, advanced EOAT is easier to implement, easier to use and much more flexible.
"Manufacturers are looking for flexibility, versatility and lower cost," says Bob Grabowski, deputy chief technology officer for Advanced Robotics for Manufacturing, a U.S.-based consortium focused on driving innovation in robotics.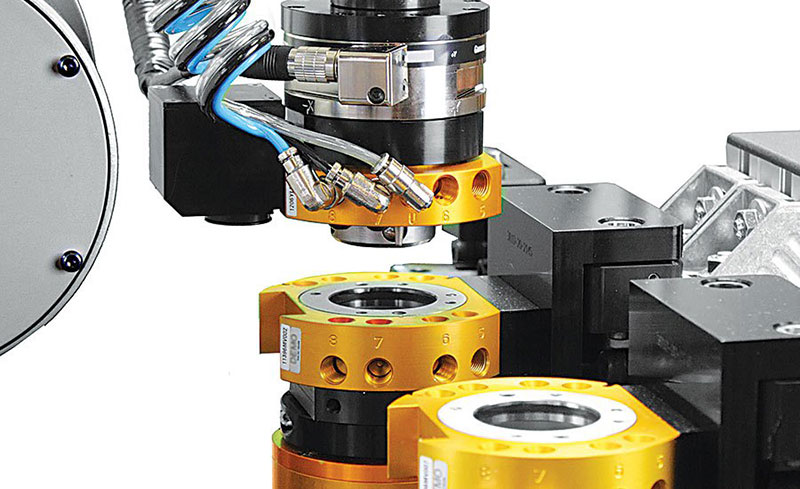 Tool changers—like these shown from ATI Industrial Automation—enable faster changeover from one end effector to another.
A softer touch
Flexibility is one of the biggest differentiators in EOAT equipment on the market. "Flexibility is key," RIA's Doyle says.
Traditionally, one EOAT has been expected to fulfill one very special task thousands of times. It always grips the same objects. Specific gripper fingers are built for this task—pneumatic or electric, depending on force and requirements. But that will no longer cut it for many of today's applications.
"Tool changers allow you to utilize different end effectors in the same robot application, giving faster changeover from one end effector to another," Doyle says. Notable vendors in this space include ATI Industrial Automation, RightHand Robotics and Soft Robotics.
The robotic hand has long been considered a limiting weakness of robotics because of its lack of dexterity and flexibility. Human hands are still far superior in this regard, but new gripper designs allow greater dexterity and the intelligence to sense different materials that require a lighter (or tighter) hold. This is crucial in applications such as food and beverage, where the goods include things like tomatoes that cannot be grabbed with force.
Vendors have made great strides in increasing agility and intelligence at the end of the robotic arm, according to Casey. "The human hand has a lot of feedback to the brain to tell it what is happening with gripping an object," he says. "We readjust or hold it differently or transition it from one location to the next."
Now that can be done using sensors within the end effector and feeding that information back into a robot program so it can readjust its grip before making a motion—a breakthrough in robotics intelligence.
Festo has moved beyond the human hand and borrowed from other biological systems to develop a robot arm based on an elephant's trunk and an end effector based on the structure of a fish's fin. The design of the Bionic Handling Assistant is more flexible than a conventional robotic arm, according to Michael Zanker, mechatronics engineer for Festo. It is made of rings of flexible plastic, giving it 11 degrees of freedom. The adaptive FinGripper is able to hold and move delicate and differently shaped objects without damaging them. The Fin Ray effect of Festo's DHAS adaptive gripper fingers allow them to conform to most shapes much like fingers of a hand wrap around an object. Adding a suction cup gives more grip. This type of EOAT rarely has to be replaced, Zanker says.
New gripper designs take different approaches to handling multiple types of products, such as:
Traditional changeovers are done during a shift, when an operator will unbolt an effector and rebolt another one in its place. This type of changeover requires manual intervention, which can put humans at risk of a drop hazard.
Automatic tool changers (ATCs) allow for quick latching and unlatching of the end-of-arm effector. "The training and integration are so much less than what people have been doing," says Early Ewing, UR+ product manager for the Americas at Universal Robots. "Everything we do is to reduce the costs and complexity of changeover and redeployment." His company views robots as a platform and a tool as opposed to machines that accomplishes a discrete task. The more adaptable the robot, the faster the return on investment. This, in turn, makes robots more accessible to a wider audience than previously.
Built-in adjustability. Some effectors now offer a single cell capable of handling different-size boxes, Casey says. These are invaluable when you need a changeover to be done in seconds rather than hours. Many manufacturers offer special quick-change interfaces for EOAT. Festo, on the other hand, designs its EOAT for maximum flexibility. The BionicCobot, the Festo collaborative robot, has a standardized interface to which the gripper is screwed.
Dexterous end effectors. Advanced grippers can handle a multitude of different-size objects, picking objects very gently. RightHand Robotics offers a flexible hand particularly useful in e-commerce and order fulfillment applications, Casey says, because it uses vacuum and grasping all in one, with individual appendage controls featuring different set points for different objects.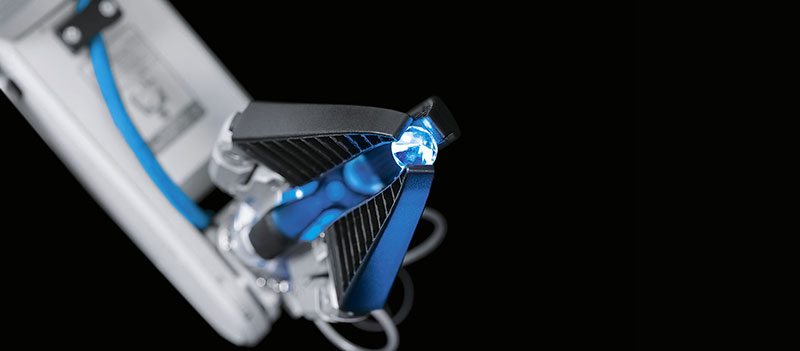 Adaptive Fin Ray fingers from Festo can grip differently shaped and also very sensitive objects without additional sensor or control technology.
Cobot copilot
Working side-by-side with their human counterparts, cobots embody the flexibility that new environments require. They operate at a slower speed than industrial robots, decreasing human risk, and they are designed to reduce speed or shut down if a collision occurs. "The throughput can be slower, but they are very adaptive to different environments," Casey says.
Universal Robots makes cobot arms—in the UR+ line—that can pick up work, carry it and then perform another task somewhere else.
In cobot environments, the need for flexible grippers is common, with even more requirements coming into play, Zanker notes. "For human-robot collaboration, there are completely different safety aspects to be considered and thus additional guidelines have to be fulfilled," he says. "The grippers are increasingly equipped with tactile sensors so that they do not cause injury to the operator in the event of a collision."
As human-robot collaboration increases, the ideal gripper will be able to grasp a range of shapes, Zanker adds, and will have easily adjustable gripper jaws.
Companies in this article