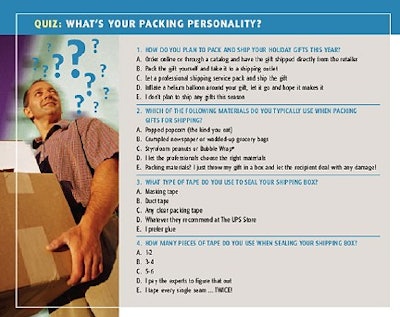 'Tis the season for folks of all sorts to do some real, honest-to-goodness packaging of their own. How well do you and your packs stack up…or not? To find out, you can take the UPS Store quiz, from the article "What's your pack personality?" published in the Holiday 2005 issue of UPS Store's Ship Shape magazine.
Personally, I didn't realize that some people use popcorn as a cushioning material. However, there's a guy here at the office who jokingly munches on those expanded polystyrene peanuts, saying the green are minty and the pink are cherry, but he couldn't get me to bite. Anyway, without further adieu, we offer the UPS packer quiz:
1. How do you plan to pack and ship your holiday gifts this year?
A. Order online or through a catalog and have the gift shipped directly from the retailer
B. Pack the gift yourself and take it to a shipping outlet
C. Let a professional shipping service pack and ship the gift
D. Inflate a helium balloon around your gift, let it go and hope it makes it
E. I don't plan to ship any gifts this season
2. Which of the following materials do you typically use when packing gifts for shipping?
A. Popped popcorn (the kind you eat)
B. Crumpled newspaper or wadded-up grocery bags
C. Styrofoam peanuts or Bubble Wrap®
D. I let the professionals choose the right materials
E. Packing materials? I just throw my gift in a box and let the recipient deal with any damage!
3. What type of tape do you use to seal your shipping box?
A. Masking tape
B. Duct tape
C. Any clear packing tape
D. Whatever they recommend at The UPS Store
E. I prefer glue
4. How many pieces of tape do you use when sealing your shipping box?
A. 1-2
B. 3-4
C. 5-6
D. I pay the experts to figure that out
E. I tape every single seam … TWICE!
Now, score your answers according to the following points system, to reveal your packaging personality.
Question 1: A = 3 points, B = 4 points, C = 5 points, D = 1 point, E = 2 points.
Question 2: A = 1 point, B = 3 points, C = 4 points, D = 5 points, E = 2 points.
Question 3: A = 3 points, B = 2 points, C = 4 points, D = 5 points, E = 1 point.
Question 4: A = 2 points, B = 3 points, C = 4 points, D = 5 points, E = 1 point.
20 POINTS – PRECISION PACKER You want it done right the first time, and you don't have time to do it yourself. You delegate your packaging to the professionals and your recipients are always impressed with the polished end-product.
16-19 POINTS – PATIENT PACKER You take time and care when packaging gifts. Your gift recipients recognize your thoughtful efforts and the time you invested whenever they receive a package.
12-15 POINTS – ATTACKER PACKER You "attack" your packaging duties with whatever is handy around the house. Unfortunately, the items you're using don't make good packaging materials and won't protect your gifts. Chances are, your recipients are losing out on the other end.
8-11 POINTS – SLACKER PACKER You do the bare minimum ... and it shows! Your gift recipients are left to clean up the mess. If you want to stay on Santa's "nice" list, you'd better rethink your packing strategy.
4-7 POINTS – WACKY PACKER You score big points for creativity, but it's doubtful your packages ever make it to the intended recipients. Better let the professionals do the job next time.