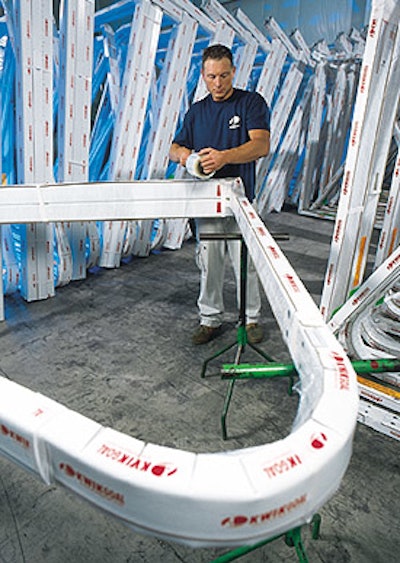 Unless someone works in a park district or school, few people come into contact with packaging of soccer goals. In fact, such products, which are made of painted steel pipe and netting, are so ungainly to handle, it's difficult to understand how they could be packaged.
Anthony Caruso, president of Kwik Goal Ltd., Quakertown, PA, knows how tough it is to protect these products, and so does his production manager, Pete Noneman. That's why they went to EastPack in 2000. At the time, their workers were using corrugated pads, bubble sheet, stretch-wrap film, plastic caps, and strapping tape in a variety of combinations to try to protect the ungainly parts. Not only was the process very labor intensive, it also didn't afford as much protection as the company wanted.
At EastPack, the Kwik Goal people met with Andy Batten, an account manager for Laminations (Neenah, WI), a maker of paper-based, edge-protector packaging materials. Later, Batten visited the Kwik Goal plant to learn more about the products, and he brainstormed packaging ideas with Caruso and Noneman. Eventually, the goal manufacturer sent a product sample to Laminations' eastern plant, and the engineers there developed a prototype packaging system that includes several of Laminations' unique products.
Kwik Goal liked the prototype, so the remainder of the company's products were measured for more prototypes and samples. Now the company uses four custom Laminations' products in 21 different sizes.
"Our main products are goal posts for soccer," explains Caruso, "and we have about 50 different sizes and shapes. But we also do goals for field hockey, football, and lacrosse, all using these packaging products." In addition, the company also makes athletic training equipment and player equipment.
Corners a big issue
Because the products tend to be dragged around before they're unpacked and assembled, corner protection is vital. "One of the corners on our goal posts is very critical," Noneman points out. "It's the corner that gets dragged the most."
A riveted laminated paper UChannel®, notched on one end, is used on goals with right angles. A second product, another UChannel that's riveted on one end only, can expand and contract to conform to the shape of tapered products. A third product, a riveted UChannel made from Flexboard®, bends around product curves. For the t-shaped products, a riveted UChannel has a piece of Vguard® riveted to each end. Each of the Kwik Goal pieces is custom printed with the company name and logo.
Caruso explains that most goals are made in three pieces, two welded end pieces and the crossbar. "To protect the end pieces, we turn one around so they have the same profile and put a piece of corrugated board between them so they don't abrade," he says. "Then we wrap them in stretch film to protect the painted surfaces. Then the U-shaped protective paper is placed around the parts and secured with strapping tape. Any exposed areas that could pick up dirt or dust are also film wrapped." The interior film keeps the tape away from the painted parts.
Cutting labor and training
The new packaging has been in use for about a year, according to Noneman. Although labor costs had been the driver for the change, the products now have greater protection as well.
"This is far better protection than what we had before," says Caruso. "We've actually experienced reductions in product returns caused by damage. We haven't had any specific comments from the trade, but we have cut down on shipment damage."
Not only has the company cut its packaging labor costs, but the use of prefitted parts makes training new workers much easier. "It takes a lot less skill to apply these parts. In the past, we had to train people how to bend sheets of bubbles around the corners. And during our busy season, we bring in a lot of temporary help," Caruso says. "Now the person doing the packaging has prefitted parts, so there's no guesswork about protecting the parts."
The only downside is inventory. To receive the custom printing, Caruso says the company must buy in quantity. "So we're holding a sizable inventory," he says, "but we've accommodated that." He admits that in terms of packaging materials, the new system is more costly. "But when we factor in labor savings and reduced damage, it's been a true benefit." Noneman adds that having the company name and logo printed on the package is good advertising, "so we actually gained three benefits."—AO
Companies in this article