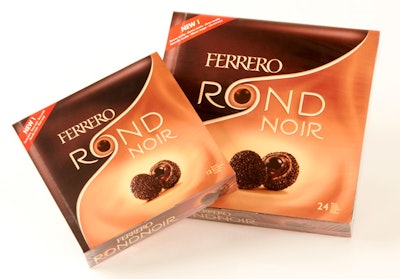 Ferrero, maker of Ferrero Rocher, Tic Tacs, Nutella, and other candies, is now using Propafilm™ OS, a shrink-tightening biaxially oriented polypropylene substrate from Innovia Films, to overwrap boxes of its Rondnoir chocolates.
Propafilm is a high-speed, transparent overwrap film manufactured by Innovia's bubble process. The BOPP film is known to provide good water vapor, flavor, and aroma barrier properties, as well as high gloss and clarity, high tensile strength, and good puncture and flex-crack resistance.
Ferrero Rondnoir is mild, dark chocolate with delicate wafer, smooth chocolate cream, and an almond pearl hidden within. The BOPP-overwrapped chocolates are available throughout Europe, in boxes containing 12 or 24 pieces.
Ferrero refers to itself as the fourth-largest confectionery group in the world, priding itself on its "glocal" (think globally, act locally) characteristic, which focuses on international development, without losing sight of its relationship with local communities. To that end, the group plans to open its 19th production plant next year, this time in the industrial zone of Manisa, in western Turkey.
"We are pleased to supply Propafilm OS to Ferrero. The outstanding sparkle and gloss of the film are important factors in the confectionery market, where shelf appeal and pack wrap tightness can influence purchasing decisions," says Steve Langstaff, Innovia Films' BOPP product manager.