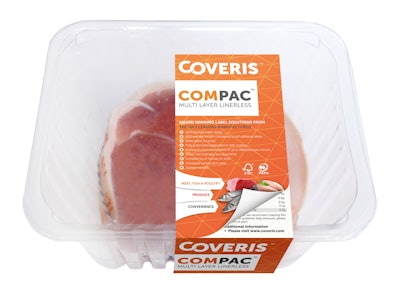 Global packaging company Coveris launches COMPAC Linerless, a new multi-layer addition to their already award-winning label range. The COMPAC Linerless solution combines functional and commercial benefits while supporting new Food Information Regulations (FIR) via extensive surface area printing capabilities. In doing so, Coveris has achieved significant volume, environmental, and process advantages in an innovative multi-layer format.
Having been instrumental in the development and expansion of linerless labels in the U.K. since 2004, Coveris has led the format's growth within the meat, fish, and poultry sectors and established this as the dominant print format for the category. Coveris has recently been responsible for the penetration of new food categories, such as convenience, with the launch of the fully removable Slidewrap label, as well as bespoke solutions to suit vacuum-packed formats.
The format's historical success has largely been due to the removal of carrier backing paper used in more traditional self-adhesive applications. This allows for reel weight to be reduced by 40%, which results in zero waste, more labels per reel, and faster production speeds.
The launch of the new COMPAC multi-layer format extends the application of linerless labels to include further product information across twin layers with up to three printable faces. Compact and interactive, the large surface area can be utilized to communicate messages linked to FIR, promotions, cooking instructions, recipes, and more in order to maximize on-pack communication and on-shelf presence, while also enhancing brand integrity. Offering multi-function options including peel and reseal, smart coding, and multi-open options such as tear-away perforation, COMPAC Linerless has the ability to meet varied retail demands while upholding the highest industry standards.
Commenting on the launch of the new label concept, Craig Bevan, Linerless Sales Director, explains: "Revolutionizing the COMPAC range to include a linerless format offers significant benefits to our customers. Advantageous to communication, environment, and operational processes, the Coveris COMPAC Linerless concept is an exciting first-to-market launch. We are thrilled at the potential of this design to develop with our customer's brand, functionality, and process requirements."
Companies in this article