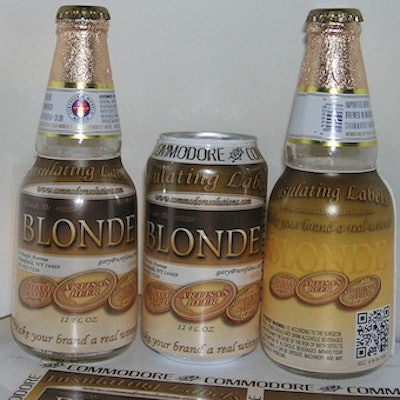 Labec labels are made from coextruded polystyrene (PS) foam shrink-label stock that insulates aluminum, glass and polyethylene terephthalate (PET) beverage containers.  The label also provides breakage protection to glass. Labec foam PS labels are said to keep beverages colder an average of 15 to 20 minutes longer than plain cans, based on a beverage-temperature gain without the label of 20 to 30 degrees F over one hour.
Labec PS foam labels may be printed, hot-stamped for a premium look, metallized, embossed, etc. The insulating properties of Labec foam mean the beverage may be enjoyed straight from the can without any of the extra moisture and condensation inherent in aluminum cans as they warm towards room temperature.
The labels can improve recyclability of containers, if left on aluminum cans or ground up with glass bottles. The fuel value of the label replaces 5 to 8% of the natural gas used in recycling, according to the company.
Companies in this article