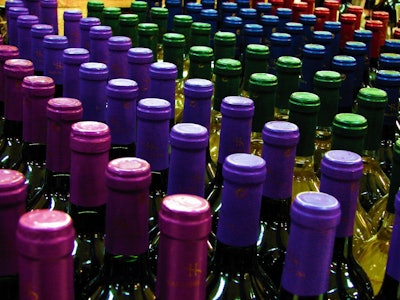 Demand for wine packaging in the U.S. is projected to increase 4.4% annually to $3 billion in 2019. Growth will be supported by continued favorable gains in domestic wine consumption and production. In addition, advances will be spurred by increasing disposable personal incomes and changing alcoholic beverage preferences occurring with younger consumers. These changes include the preference for wine over beer among Millennials and a larger share of Millennials consuming wine on a daily basis versus other age groups. These and other trends are presented in "Wine Packaging," a new study from The Freedonia Group, Inc.
Glass bottles, the long-time traditional wine container, will continue to dominate the container mix in value and volume terms. However, analyst Esther Palevsky notes, "competition is increasing from a growing variety of alternative package formats and sizes offering greater economy or convenience." The fastest gains for containers will be outside the dominant 750-mL size, including both smaller- and larger-sized offerings.
Robust advances will occur for single-serving container options such as plastic bottles, aseptic cartons, aluminum cans, and cups and goblets. Bag-in-box packaging will experience above-average growth due to its lower cost per unit of volume and greater adoption of the format for 1.5- and 3-L premium offerings, thereby changing the image of "boxed wine" as being inferior in quality to bottled wines.
Wine closure opportunities will be driven by rising packaged wine production, with changes in the container mix necessitating a widening array of closure types. This trend will fuel strong opportunities for aluminum and plastic screw caps and plastic dispensing closures. Though continuing to face intensified competition from alternative closures, cork demand will be sustained by the entrenched position of glass bottles in the wine industry and the cost-competitiveness and improved performance of technical corks.
Among other wine packaging products, labels will provide the best opportunities through 2019, aided by the importance of value-added bottle labels that add visual appeal. Moreover, new brands and brand extensions are launched with high frequency in the wine industry, necessitating demand for new or redesigned labels.
Though bulk containers will remain a niche area in wine packaging, the growing share of wine exports that are in bulk form will drive opportunities for intermediate bulk containers and flexitanks. In addition to reduced packaging and transportation costs compared to bottled wine, bulk wine enjoys significantly lower import duties at its destination.