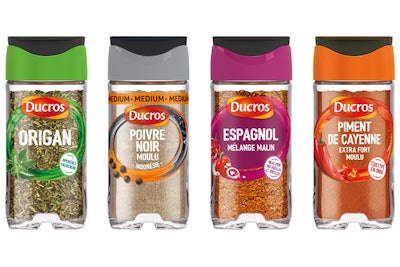 First introduced in May 2018 in the United Kingdom with the brand Schwartz, and in December 2018 in France with the brand Ducros, the new Eurojar, is a custom-designed closure by Aptar Food + Beverage. Produced at Aptar's facility in Torello, Spain the new closure solution leverages bi-injection technology to deliver a multi-color and multi-texture finish, drawing attention on store shelves and giving consumers a superior dispensing experience with an easy grip, and one-hand opening. The audible "click" can help to ensure resealability and promote freshness, while the active hinge provides a hygienic pouring experience.
Aptar's Eurojar closure and colors were custom-made for McCormick to provide a bold and modern appearance, helping with flavor recognition on shelf and at home. McCormick spices are identified by four different colors: orange for spices, bright green for herbs, purple for seasoning mixes, and grey for pepper.
McCormick was recognized for the design of its new Eurojar featuring the new closure, which won first prize in the consumer products category at a 2018 French packaging awards ceremony.
Companies in this article