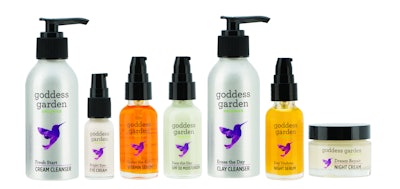 Goddess Garden Organics, known for their certified-organic sunscreens and skincare, has given their facial care line a facelift. After successfully launching seven beauty products in their Daily Facial Routine line in 2016, Goddess Garden redesigned the packaging to reflect the high-quality organic ingredients found inside the bottles.
"Like our sunscreens, our initial focus with the facial care line was on using the best and most effective organic ingredients," says Goddess Garden founder and CEO Nova Covington. "Consumers can have amazing daily beauty care and avoid chemicals. We are proud that all of our highly effective products, from sunscreens to perfumes to facial care, help make clean ingredients accessible to everyone."
The new packaging highlights the high quality of the products by calling out the "plant-powered ingredients" and listing user benefits. Goddess Garden further enhanced the user experience by changing the color of the entire line from blue to purple, a color associated with royalty and luxury. The iconic hummingbird that is consistent with all Goddess Garden products remains on the new packaging, but an elegant watercolor treatment elevates the brand's logo in the beauty category. Thicker boxes, with a soft-touch finish, reinforce the notion that users should treat themselves to premium products with organic ingredients.
The Daily Facial Routine line includes Fresh Start Invigorating Cream Cleanser, Bright Eyes Firming Eye Cream, Under the Sun Hydrating Vitamin Serum, Face the Day Daily SPF 30 Moisturizer, Erase the Day Purifying Clay Cleanser, Day Undone night serum, and Dream Repair Brightening Night Cream.
The facial care products are available at natural and conventional retailers nationwide, and retail for $16.99 to $24.99 each.