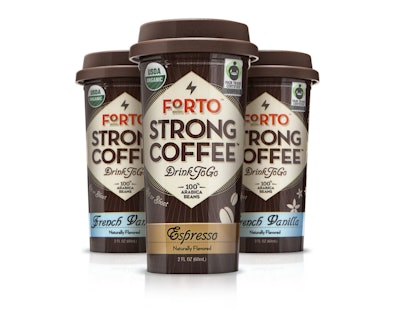 Packaged in a miniature replica of a paper coffee cup, Forto Strong Coffee Drink To Go packs twice the punch, containing the same 200 mg of caffeine as two cups of coffee in 2 oz. Forto is the invention of Neel Premkumar, the father of twins who developed the product to satisfy his craving for a wholesome and portable energy product. The "coffee shot," available in four flavors, is made with Organic and Fair-Trade 100% Arabica coffee beans and is cold-brewed in a 20-hr process for smoothness.
Says Premkumar, "We loved packaged coffees like Death Wish for their caffeine level, and decided to take that to the next level with our own wholesome, organic strong coffee shot. Forto is made for people who crave strong coffee to keep alert and highly productive throughout the day and on-the-go, but may not have the time for brewing and slowly sipping traditional coffee."
For this high-quality, coffee-based alternative to existing energy shot products, Forto wanted packaging that would convey a distinct look on-shelf in an established segment and build brand equity. Their vision was a tiny container that would mimic the look of a paper coffee cup while withstanding the demands of a hot-fill process and their concentrated formula.
Working with Berlin Packaging and its design arm, Studio One Eleven, Forto accomplished this goal, ending up with a petite, 2-oz rigid plastic "cup" with a brown snap-on lid embossed with the Forto logo. The tiny, portable pack is eye-catching with a full-body shrink label and is immediately recognizable as a coffee-based product. But engineering the package was no small task.
During the design process, although the original intent for the package was for the closure to look like a traditional snap-on coffee-cup lid, Studio One-Eleven was forced to explore other options given various manufacturing and processing limitations.
Explains Studio One Eleven Director of Industrial Design Andrew Sanguinet, "Due to concerns over the efficacy of an induction liner without a threaded closure, we parallel-pathed options that included a custom, liner-friendly, continuous-threaded cap and an extrusion blow-molded bottle made from high-density polyethylene. While the latter option was easier to assemble, the deviation from the original design intent was rejected as an inferior opening and drinking experience.
"This presented a new issue, as the co-packer did not have the capability to conduction-seal in-line. So Studio One Eleven's engineering team specified the appropriate in-line sealing equipment and ensured its proper set up and operation."
The final design uses a conduction-sealed lid with a foil-based liner. The liner is supplied in magazines and is affixed to the cup before being capped with the snap-on lid.
As for the design of the cup, the first iteration of the project took the form of a more traditional blow-molded high-density polyethylene bottle. While HDPE was able to withstand high temperatures, Sanguinet says that after multiple rounds of taste testing, it was rejected due to the negative taste profile. The final package is made from a special injection-molded polypropylene resin capable of withstanding the 190°F filling temperatures on the manufacturing line while maintaining full integrity and durability. The cup is also engineered to stand up to retort processing for future formula development.
Forto Strong Coffee Drink To Go was introduced in late 2015 and is available through convenience, drug, grocery, mass, and club stores as well as online via amazon.com for a suggested retail price of $2.99 per "cup." According to the company, the product has a shelf life of 18 months and can be stored at room temperature, can be refrigerated, or can be heated in a microwave. –Anne Marie Mohan
Companies in this article