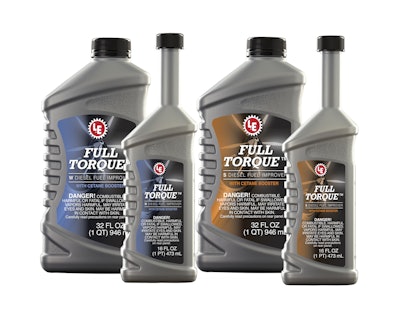 Lubrication Engineers, Inc. (LE) is a leading manufacturer of industrial lubricants, fuel additives, and other performance solutions for heavy equipment and machinery. Its BTU+ Diesel Fuel Improver, an additive that cleans injectors and stabilizes fuel, has been a leading product for years among users of diesel-powered construction vehicles, material handling equipment, and over-the-road trucks.
But leading products inevitably have competitors, and in 2015 LE made changes to its product, packaging, and sales channels, in part to secure its leadership with heavy-duty on- and off-road equipment, but also to expand its sales in the truck and passenger car marketplace. It has updated the formulation of the product to improve the end-user experience and collaborated with TricorBraun to develop new packaging with a strong shelf presence.
"Our traditional market is also changing," points out Paul Grimes, LE's Marketing Manager. "In the past, our sales force would go to work sites and factories and sell directly to the end user. Today, more young people are entering the industry, and they are more comfortable buying online. Our packaging needed to become more visually appealing to reach them."
As part of the change, LE also rebranded the former BTU+ brand to Full Torqueä Diesel Fuel Improver, upgraded the product formulation, and initiated specific plans to begin selling the product through its website as well as through its sales force.
Following development of the new formulations, LE tested them by making the new products available to a number of equipment owners in Alaska, where engines face dramatic weather challenges. The results were extremely positive and led to high-volume orders for the new products.
Creating new bottles
"We knew we needed a new bottle design," says Grimes, "but we didn't have the capability to create it. TricorBraun stepped up and made it easy for us, conducting market research and bottle studies, and presenting design ideas when other package designers we talked with were still waiting for us to give them direction."
LE's interaction with TricorBraun designers began with an online storyboard question-and-answer session during which designers created visuals that LE marketers could react to and the designers could adjust in real time. Following that initial exchange, TricorBraun's designers created three concepts in detailed renderings and FDM (fused deposition modeling) models. These were later tailored using LE's subsequent comments to arrive at the final design.
The final 16-oz bottle includes a Baker neck finish that enables it to be used with current capless diesel automobile fuel inlets, and a distinctive body shape that includes molded ridges for secure gripping. While construction vehicles and trucks are LE's primary market, this design feature is also attractive to the automobile market. The metallic color and a rough metal surface finish on parts of the bottle reinforce the Full Torque power image and give the bottle a dramatic shelf presence.
The 32-oz bottle, used primarily for heavy equipment, echoes the same body design, but without the Baker neck finish. Both bottles are molded of high-density polyethylene and feature large, eye-catching pressure-sensitive labels. The 16-oz bottle, potentially used by consumers, has a child-resistant closure.
The 16-oz bottles are molded by Hub Plastics using molds built by TricorBraun; the larger bottles are molded by Silgan Plastics. The 22-400 CRC closure with heat seal is provided by Berry Plastics; the 32-oz bottle with 38-mm tamper-evident closure is provided by Hoffer Plastics. TricorBraun collaborated with LE on the design of the label graphics.
"This bottle design is so perfect for our marketplace, that we are planning to use it for many of our other products," says Grimes.
Companies in this article