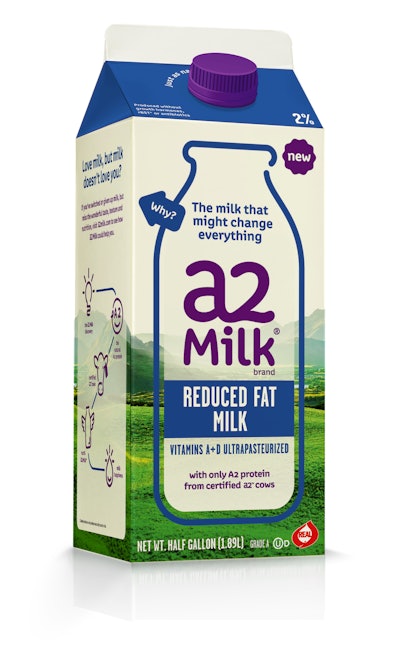 The a2 Milk Company, based in New Zealand, has launched its a2 Milk for the first time in the U.S., choosing a gabletop carton from Evergreen Packaging for maximum shelf appeal. The a2 Milk brand is made from a naturally occurring cow's milk containing only the A2 type of beta-casein protein, providing a significant digestive advantage for consumers who have not been clinically diagnosed with lactose intolerance, yet feel uncomfortable after drinking ordinary cows' milk. The brand, which prelaunched in May in California, says it chose gabletop cartons to showcase what differentiates its product on the shelf, where milk drinkers are making their purchase decisions.
"As a new brand, we need to quickly differentiateourselves on the shelf, and carton packaging was a great option for us," says Jim Smith, Vice President of Marketing for a2 Milk. "The carton pack allows us to establish our real and natural milk credentials, convey our uniqueness, achieve maximum brand registration, andtell the full story of a2 Milk and the amazing A2 protein."
By using the gabletop carton, a2 Milk says it is able to leverage four sides of billboard space and high-definition graphics to tell their story and create a compelling value proposition. Notes Evergreen, cartons are an eco-friendly packaging option because over 85% of a half-gallon carton is paper, made from renewable material, and more than 50% of U.S. households have access to carton recycling.
Companies in this article