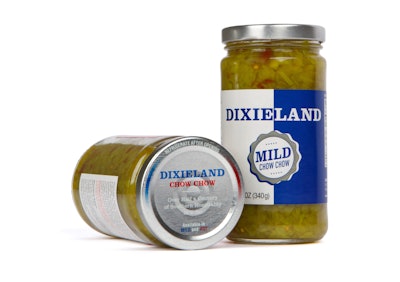 Renfro Foods was founded in 1940 in Fort Worth, TX, as a packaged spices and pepper sauce business. It later expanded to include syrups, jellies, preserves, chow chow relish, and other traditional Southern favorites. Today Renfro Foods is best known in its Southern market for its line of award-winning Mrs. Renfro's products and for its annual use of pink closures to benefit breast cancer research on its most popular products.
But before there was Mrs. Renfro's, there was the Dixieland brand of chow chow, a "heritage" brand of this traditional Southern relish still popular with many of Renfro's loyal customers. Now the more than 50-year-old product has a new look, with a brighter label design and new closure graphics, both designed by TricorBraun's Design Team.
"We still sell 100,000 jars each year of this classic Southern relish, first made by my father in the late 1950s," says Renfro Foods President Doug Renfro. "The recipe is basically unchanged, and it is still popular, especially with older customers. But it was time for a new look, with simpler, more colorful labels and a more contemporary, color-coordinated closure."
Renfro worked with TricorBraun graphic designers—who also developed the Mrs. Renfro's closure artwork—to tackle the Dixieland redesign.
"TricorBraun recently created a vibrant 'flame' closure for our new Mrs. Renfro's ghost pepper salsa closure, and it was very successful with customers," says Renfro. "That reminded me that a custom-printed closure is not much more expensive to produce than a plain one, and we decided to go ahead with this change that we have had in the plans for years."
The new chow chow labels reference the original design with a similar color scheme (blue for the mild, red for the hot version). But the new design streamlines the copy and replaces the original yellow background color with white, giving the label a brighter, cleaner overall look.
TricorBraun also designed a single printed metal custom closure to serve both recipes. It echoes the red, white, and blue colors of the labels in a design of concentric circles, and replaces the original package's custom white closure that carried dated 1950s copy. Copy on the new closure instead celebrates the product's more than half-century of Southern hospitality.
The new closure is manufactured by Silgan Closures, which also makes the closures for the Mrs. Renfro's brand. Redstone Visual prints the new pressure-sensitive labels.
Companies in this article