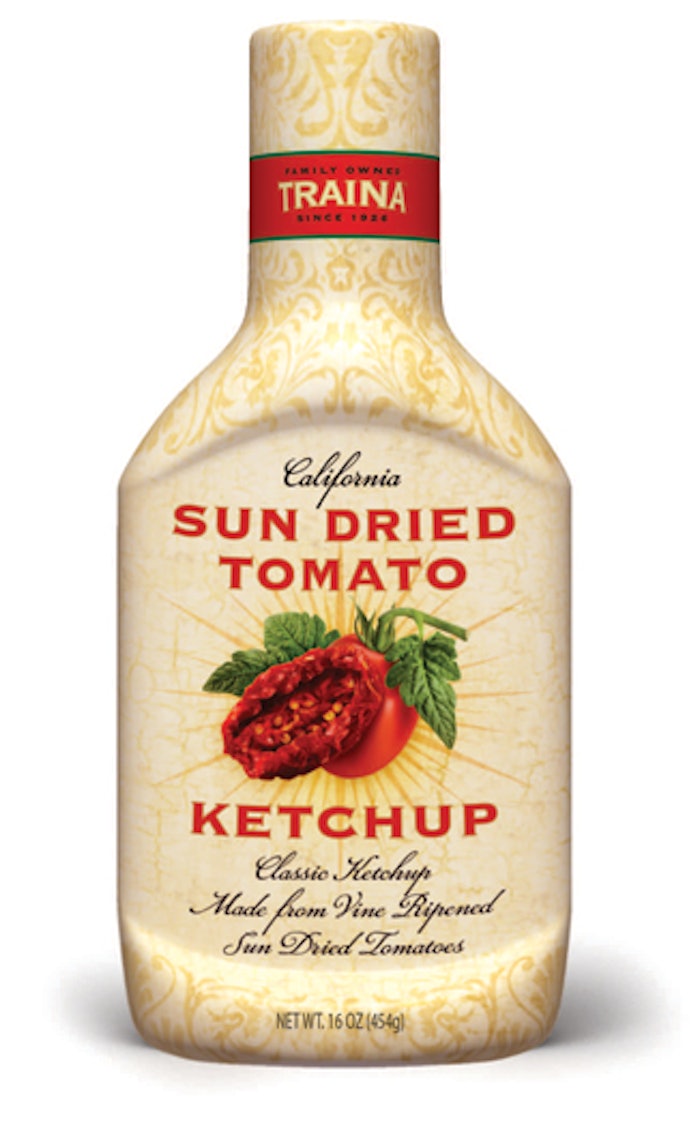 Located in the San Joaquin Valley of California, Traina is a privately-owned grower and producer of sun-dried fruits whose only distribution channel historically had been the wholesale trade. But that changed with the recent introduction of a 16-oz bottle of ketchup made from sun-dried tomatoes.
"How do you differentiate yourself in the sea of red that characterizes this category?" says Amy Thorpe, Project Manager at Traina Foods. The answer in this case was a full-body shrink sleeve label. Supplied by Fort Dearborn Co., the oriented polystyrene label is printed flexo in 10 colors. A Tripack system applies and shrinks the labels onto the multilayer PP/EVOH bottles, which are coextrusion blown by Amcor and supplied by Tricor Braun. Seaquist Closures supplies the injection-molded polypropylene cap.
Positioned as a premium product because it's made from sun-dried tomatoes, the 16-oz bottle sells for about 31 cents/oz while a more conventional ketchup sells for about 12 cents/oz. The bottles are hot-filled by a contract manufacturer.
Watch an Off-the-Shelf video of this package at pwgo.to/965.
To see a spin + zoom 360° photo, click here.
Companies in this article