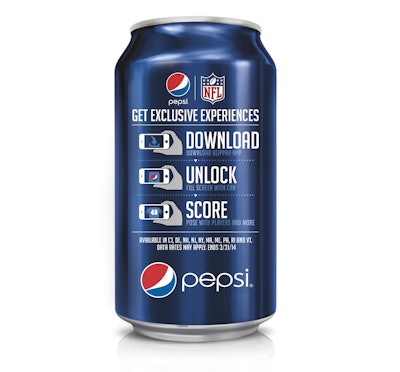 Pepsi is reaching out to consumers with a new mobile marketing platform that its creators predict will soon become part of the common vernacular. In its first retail-based project with interactive platform provider Blippar, Pepsi activated nearly 20 million cans of product to promote its sponsorship of Super Bowl XLIX in 2015, advising consumers on-pack to "Download," "Unlock," and "Score"—a three-step process that Blippar hopes will soon be widely referred to as "blipping."
"When you hear the word blipp, just think about how today we just naturally say, 'Google' this, or 'tweet' that," says Lisa Hu, Vice President and General Manager of Business Development, North America, for Blippar.
'To blipp,' in laymen's terms, means to access digital, interactive content via a mobile device through the use of the Blippar app, available for a range of mobile platforms. For the recent Pepsi promotion, that content consisted of the opportunity to enter a sweepstakes for Super Bowl 2015 tickets, links to a social sharing microsite, and an augmented reality (AR) feature that allowed consumers to take a virtual picture of themselves next to one of seven different NFL players and then share that image on Facebook, Twitter, or e-mail.
According to Hu, while Blippar has the capability to provide "limitless features" to entice consumers to proactively engage with a brand, the success of a campaign is dependent upon consumer education at point of use. "We can create the greatest blipp ever, but if there is no call to action to tell people what to do with it, then you are not going to see engagement," she says. That's where Pepsi did a great job."
Pepsi's call to action included on-pack instructions that covered an entire panel of the can, advising consumers on how to unlock the interactive features. From a technical standpoint, any package, display, graphic, etc. can be made "blippable," without any special coding or watermarking, allowing Blippar to turn interactive features on and off at any time. Content can also be changed frequently, and consumers can receive a different experience in-store versus out-of-store, through Blippar's use of geo-tagging or geo-location technology.
Content for the Pepsi promotion, which ran from December 2013 through the end of March 2014, changed once the sweepstakes tickets were awarded, however content will likely be available until Pepsi launches its next Blippar campaign, says Hu. The Super Bowl promotion included regular Pepsi, Pepsi Next, and Pepsi Max cans and 20-oz bottles as well as in-store displays, in the Northeast U.S.