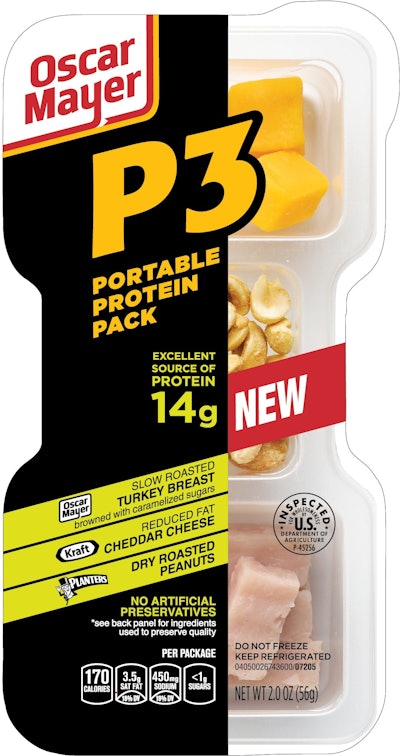 P3 Portable Protein Pack is poised to become a major force in the growing $19 billion protein-snacking category, which has been driven by consumer desires for protein-rich snacks such as Greek yogurt or protein bars. As the largest manufacturer of pre-packaged meats, Kraft is well positioned to bring a wholesome protein snack to market that includes high-quality brands consumers already know and trust. The convenient, on-the-go packs are made of three highly recognizable brands: Oscar Mayer Selects Meats, Kraft Natural Cheeses, and Planters Nuts.
"Consumers snack three times a day on average, and 75 percent of adults are looking to add more protein to their diets," says Joe Fragnito, Oscar Mayer Vice President of Marketing. "The protein snacking category has a 7 percent growth rate, but meat is too often an afterthought with all the yogurt, smoothies, bars, and powders on the market. P3 Portable Protein Pack is the ideal product to address this gap in the marketplace."
P3 is packaged by contract packager Nu-Pak Inc.. The three-cavity clear tray is thermoformed of PET by Bemis. Flexible film heat-seal lidding from is said to be EVA, and it also comes from Bemis. Graphic treatment down the left half of the film lidding provides plenty of opportunity for branding. The right half is essentially clear, so consumers can see what's inside.
P3 Portable Protein Packs are available nationwide and can be found in the refrigerated meat case at grocery and convenience stores. A single, 2-oz pack retails at $1.79 and a triple, six ounce pack retails at $4.99.
"The research and development team explored several innovative packaging designs before landing on the version you see today," says Maria Bracone, Director of Packaging Snacking R&D at Oscar Mayer. "This packaging fits with the Oscar Mayer and Kraft brands, stands out against our Lunchables product, and communicates the idea of snacking to our target consumer."