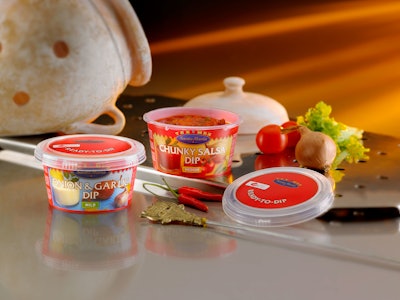 The TexMex Onion & Garlic and the TexMex Chunky Salsa both come in a 215-mL SuperLock container with click-on screw lid from RPC Superfos. Packaging development technologist Åsa Yhlen from Santa Maria appreciates the new container, which is injection molded of polypropylene.
"I believe that plastic as a packaging material will keep gaining ground," says Yhlen. "Glass is great, but it takes up a lot of space on the pallet. The stacking facility of the SuperLock package makes it easy to handle in connection with the filling process. Another good thing is that we can skip a working procedure thanks to in-mold labelling. So the need for subsequent labelling is eliminated and this makes the filling process more efficient."
In-mould labelling has two additional advantages. First, the labels are in clear and sparkling colours and are not susceptible to peeling. Second, a layer of ethylene vinyl alchohol (EVOH) in the PP label provides gas barrier properties that prolong shelf life.
Santa Maria is a very well-known brand in the Nordics for spices and taste sensations from Thailand, India and Mexico. It belongs to the Finnish Paulig Group and constantly works with product development involving all parts of a cooperation that is driven by curiosity, innovation, and a fervent interest in good taste.
As such, the SuperLock packaging solution is a great match: it is a multi-award winner specially designed to meet barrier demands. Convenience products can stay on shelf twice as long - or even three times longer - in SuperLock than in reference packaging thanks to the combination of membrane sealing and barrier protection provided by the in-mold label.
Companies in this article