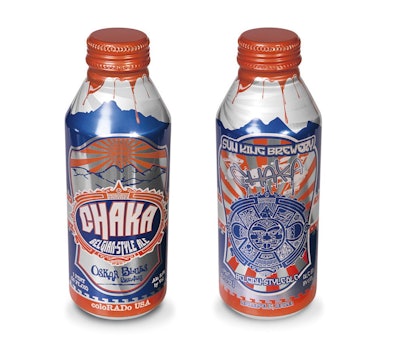 Craft beer breweries Oskar Blues Brewery of Lyons, CO, and Sun King Brewing Co. of Indianapolis, IN, are bringing a sleek new packaging silhouette to craft beer retail shelves. In collaboration, the breweries are introducing Chaka, a limited-release, handcrafted Belgian-style ale brewed by both companies and packaged in 16-oz resealable Alumi-Tek® bottles from Ball.
"Unique packaging like the Alumi-Tek bottle provides both Oskar Blues and Sun King the differentiation we needed to make our limited-release beers distinct from our core lines. Plus, the sleek bottle shape is appealing to our customers," says Chad Melis, marketing director of Oskar Blues Brewery. "Craft beer in aluminum bottles is another step forward in the evolution of beer."
The aluminum bottle delivers portability with a resealable, twist-off cap and a wide mouth opening for a smooth pour. The 100% recyclable bottle is said to be lightweight, unbreakable, and efficient to ship and store, provides an excellent brand billboard, and is impervious to light and oxygen, providing flavor protection and long shelf life for the beer inside.
Companies in this article