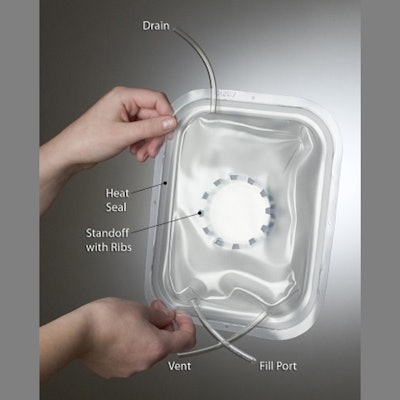 Foster-Miller Inc. (www.fostermiller.com), a Waltham, MA-based product and equipment design company, has developed a blood collection system to lyophilize, store, and reconstitute blood in a single device that eliminates blood exposure to the external environment. A prototype of the system has been sent to the U.S. Army.
The 7 x 7 x 1-in. blood bag is made of polyvinyl chloride, with a micro-porous polyurethane membrane chosen for its high virus-resistance. The material, which is less than 10 microns thick, showed high drying rates and 100% protein recovery in testing.
The bag's design presented a challenge because blood cannot come into contact with the bag's membrane. If blood contacts the bag's membrane, the membrane's pores will clog and impede lyophilization. Foster-Miller solved the problem by creating a container with a hole in the lid and welding the PU membrane on top. An elastic PVC diaphragm and ribbed PVC standoff were heat-sealed in place between the container and the diaphragm. The round standoff serves as a separator, while the diaphragm acts like a valve, peeling and expanding in the presence of a vacuum force.
Once the membrane opens, the standoff creates a 1 1/2-in. gap between the membrane and the blood. Water can escape through the drain, and air can be expelled through the vent. The bag can be lyophilized at -20º C. Once lyophilization is complete, the diaphragm permanently reseals, and the membrane is removed, turning the bag into a storage device. Blood can then be rehydrated for future use.

Companies in this article