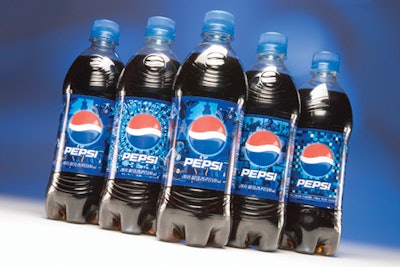 Working with 4sight (www.4sightinc.com), a structural packaging innovation firm, Pepsi created the new bottle as a cornerstone of its "Choreography" branding program.The bottle design helps the brand remain relevant with teens and young adults by integrating the equity in the Pepsi logo and delivering greater visual impact in stores.
The new design extends the branding beyond the label by adding the Pepsi globe and name onto the bottle. Lines of the iconic Pepsi globe logo are expressed as horizontal waves, and waves above and below the label uncoil from top to bottom, giving the bottle more visual definition when exposed to light on store shelves.
"Wherever you look, there is branding in all directions," says Stuart Leslie, 4sight president. "No matter which way the bottle faces, consumers will see two Pepsi globes embossed on top, above the label, and the Pepsi name prominently displayed in two areas at the bottom."
The PET bottles are sourced through multiple suppliers.
The new design balances creativity and function, Pence notes. Marketers at Pepsi get a bottle that reinforces the brand's image and position in the soft drink industry. The bottle also succeeds from an operations perspective. It withstands carbonation pressure, design elements in filled bottles retain their shape and sharpness over time, and the bottles adhere to Pepsi's existing manufacturing standards.


Companies in this article