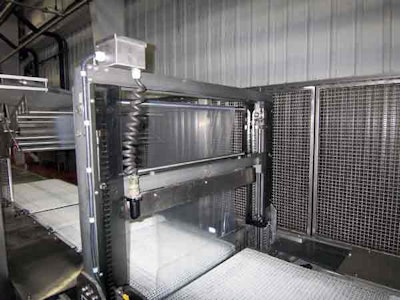 Picking and packing pickles may sound like a tongue-twister, but for Mt. Olive Pickle Company it's just another day on the job. Located in Mt. Olive, NC, the company produces and bottles a variety of pickles and relishes, much of which is shipped to club stores.
Until recently, the firm would receive empty glass containers in corrugated reshippers. Once the containers were filled, they'd go back in the reshipper for distribution to the marketplace.
To reduce the amount of corrugated used for packing the bottles and to make the pickles display-ready for store shelves, the company decided to switch from reshippers to tray packing.
The bottles are filled with pickles and juice, capped with a WC500 capper from Silgan White Cap Americas (www.silganclosures.com), then cooked and pasteurized. After they cool down, a Passmatic labeler from Krones (www.kronesusa.com) applies a roll-on paper label. Next, an Excel 170iAF inkjet printer from Videojet (www.videojet.com) applies a date code to the bottles, at which point they exit the label machines. From there they are conveyed to one of the company's five Model 835 case packers from Hartness International (www.hartness.com). The case packer collates the bottles in rows and prepares them to be dropped into trays. The trays are then bar coded with an inkjet coder from RSI Industrial Print Systems (www.rsipro.com).
Prior to using trays, the company used the same Hartness case packers to pack the bottles back into their reshippers, explains Jimmy Carr, operations. Mt. Olive now receives the majority of its bottles in bulk on a film-wrapped pallet. Because the company no longer receives its bottles in reshippers, it had to start making its own trays. So it invested in six TR-30 tray formers and five SF-400VHS partition inserters from Wayne Automation (www.wayneautomation.com). But some of Mt. Olive's customers still prefer to receive shipments in boxes, so the company also invested in three CE-2100 case erectors from Wayne Automation.
The incredible shrinking machine
The switch from boxes to trays also necessitated the purchase of tray shrink-bundling equipment. In 2002, the company purchased its first tray shrink bundler, CSI-TW-30SS, from Packaging Machines International (www.pmi-intl.com). Over the next two years, Mt. Olive bought five additional machines. "The last two we purchased had a servo-driven seal bar upgrade," says Carr. "We liked that so much we sent the other four back one at a time and had them upgraded to the servo package as well."
The servo-driven seal bar provides a more controlled seal, explains Carr. "Before, it was being done using pneumatics," he says. "Any fluctuation of air pressures or volumes in the plant could sometimes lead to problems in any of our pneumatically controlled machinery. By going to a servo drive on the PMI bundler, we could rely on a good seal consistently." The shrink bundler uses Allen-Bradley controls from Rockwell Automation (www.rockwellautomation.com), including an Ultra 3000 servo drive and an SLC 505 processor. It is capable of speeds up to 40 cycles per minute, depending on tray size.
The machine is constructed entirely of stainless steel, which is an important feature, says Carr. "If a bottle cracks somewhere along the way and leaks pickle juice into a piece of equipment, that's bad news," he says. "Regular painted carbon steel doesn't hold up, so whenever possible we have all our equipment manufactured out of stainless steel."
Currently, the company uses 2-mil shrink film from a variety of vendors for shrink bundling; however, when purchasing thousands of feet of film, variations are inevitable. "The servo control on the seal bar is more forgiving of variations in film thickness," says Carr.
Once the tray is wrapped in film and sealed, it passes through the machine's heat tunnel where hot air causes the plastic to shrink and bind the contents to the tray. Next, the tray is conveyed to the palletizer where it is placed on pallets and shipped to the distribution center. The company produces a range of sizes from 8-oz to 1-gal containers. Trays hold either 6 or 12 bottles per tray.
Companies in this article