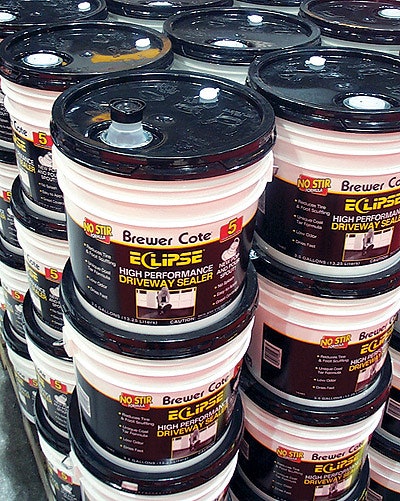 From the house to the yard to the garage, hardware is where it is happening, it being packaging. Marketers are using packaging in new ways as a tool to incite consumer interest within this broad category. What follows is a sampling of recent applications for hardware's numerous subcategories that range from adhesives to garden products to paint. A common thread in the range of applications is the synergistic pairing of package to product.
The Brewer Co., Columbus, OH, wants to create a stir in the driveway care market with its Brewer Cote Eclipse no-stir, easy-pour formulation of high-performance driveway sealer. The stock 3.5-gal high-density polyethylene bucket has a matching lid, with a pop-and-pour spout and a resealable screw cap. Both are from Landis Plastics Inc. A ring tab on the screw cap is removed—along with an innerseal—to access the spout, which can then be extended via the ring pull. The retractable spout permits unopened buckets to be stacked.
"It's consumer-friendly and easy to use," says Brewer sales manager Jack Donnelly. The 3.5-gal size weighs 39 lb compared to 53 lb for a 5-gal pail, making it more suitable for females and older folks, according to Donnelly. He also points out that a vent hole with a small hinged cover in the lid is crucial to proper pouring; it permits the product to be poured out through the spout in just seconds.
"The no-splash formulation and packaging makes the product easy to apply," says Donnelly. To accommodate the new packaging, the sealer was reformulated from a gel version that would not have poured through the spout. Although the lid does not have to be opened for normal use, users who desire to remove the lid will find that it has a tear-away tamper-evident ring. That makes the lid's removal a snap, unlike typical buckets that require prying off the lid using a screwdriver or other tool.
Eclipse was tested in selected midwest markets during 2003 where it was priced at $13.50. Unfavorable summer weather throughout the Midwest put a damper on many driveway projects and on product sales, yet Donnelly expects the product to be positioned for better weather—for him that means hotter and drier—in 2004.
Classy filter spray
Unique-in-category packaging is always an attention getter. Scentco LLC, Thomasville, GA, does that with its six varieties of blister-carded Filter Breeze home fragrancing. The liquid scent, intended to be sprayed onto home air filters, is packaged in a 1-oz HDPE bottle that mimics the look of brushed aluminum. The bottles are blow molded by Spentech Plastic Containers. The bottles and spray dispensers are supplied through distributor Smith Container (now TricorBraun).
For the first production run introduced in October 2003, Scentco used aluminum bottles. However, those proved a little too expensive, along with other considerations, according to Scentco director of operations Bobby Overmier. The production change was made in November, with the new HDPE bottles available in stores such as Ace Hardware and Home Depot starting in December. "Compared to a clear bottle, the silver bottle's impression is that it's a better, more upscale product," says Overmier.
Overmier points to the spray dispenser as having been problematic in terms of proper application until a Seaquist 24-mm SeaBreeze spray dispenser proved to have the right stuff in delivering the right amount of fragrance.
A 21-pt SBS card, flexo-printed in four colors, and the 15-mil polyvinyl chloride thermoform are provided by Rohrer Corp. Decoration is via pressure-sensitive paper labels along with a scratch-and-sniff label added by the contract packager, American Accessories. The graphics design—which includes an air filter background on the printed card—is by Cliett Creative Group.
Hoping to floor consumers
A variation on the pourability theme is a three-product line of water-based polyurethane floor treatments from the Minwax division of Sherwin-Williams, Upper Saddle River, NJ.
Launched nationally in August in conjunction with the 2003 National Hardware Show (see packworld.com/ go/c089), the line features handsome ½- and 1-gal black bottles from Pretium Packaging. The containers are fitted with no-drip, low-density polyethylene pour spouts from Berry Plastics that are similar to what has been used for laundry products. The spout is topped with a 63-mm polypropylene cap, also from Berry.
"The pour-spout packaging fits the concept of going directly from bottle to floor," remarks director of marketing Bob Hammond. That would not have been possible using traditional round steel cans, which could not be used because they would rust in combination with
the water-based formulation, adds Hammond.
Of the dark bottles and overall look, Hammond says, "We wanted something masculine and strong with a professional feel that's consistent with the design elements of other Minwax products." The appealing graphics on the pressure-sensitive labels are from Spring Design.
Even as distribution continues to build for the line of five products, Hammond says retailer feedback has been "fantastic." The three varieties of finishes retail for $45-55, the 1-gal base coat retails for $30-35, and the ½-gal size for $20.
Packaging creates a buzz
Buzzy Grow Kits from PromoSeeds Ltd., Atlanta, GA, come complete with pail, seeds, a polyolefin bag of potting soil, and growing instructions. The product's packaging components are decidedly global in nature: The painted galvanized steel pails are from India, a polystyrene blister that contains a sample of the seeds is from Austria, and the paperboard sleeves are from Canada. Additionally, the soil is shipped in bulk from Finland and bagged in the United States at PromoSeed's Kulpmont, PA, plant.
Graphics for the 5"-dia, 5"-tall painted metal pails are printed on a 20-pt SBS paperboard sleeve offset-printed in four colors and die cut by St. Catherines Corrugated. The sleeve covers the top of the pail, wraps down over two sides, and is sealed underneath. The blister is manually fitted into the top of the sleeve so that it appears on top of the "lid." The patented, 1¼''-dia clear PS two-piece blister pack serves as a visual sample of the seeds contained hidden inside the pail in a moisture-barrier aluminum foil packet so that consumers can see what the seeds look like prior to purchase.
President Kees Wurth says an Austrian company holds a patent on the way the two-piece blister snaps together. He says the blister costs about 20 cents. For this product launch, PromoSeeds bought a labor-saving benchtop machine that accurately counts the seeds that go into the blister. It was installed at the Kulpmont plant.
The product line will debut this winter at CVS pharmacy, Albertson's, and other stores in five varieties including morning glory, sunflower, and sweet pea (shown). The Grow Kits carry a suggested retail price of $5.99.
Clog-free glue tubes
Frank T. Ross & Sons Ltd., Toronto, Canada, has switched to clog-free, stand-up tubes for its glue products starting fall '03. The switch includes a repackaging of its Weldbond Universal adhesive products and a launch of a new product line, Professional Wood Glue and Outdoor Wood Glue. The medium-density polyethylene tubes are supplied by Amcor Plastube in 5-oz and 9.29-oz sizes and two versions, opaque and white, with a corresponding polypropylene screw cap. Amcor offset-prints the opaque tube in three colors and provides the clear tube decorated with a printed pressure-sensitive label. The 5-oz sizes are sold primarily at mass merchandisers, the 9.29-oz sizes are sold primarily at home centers. Pricing is from $3.49 to $5.99.
The tubes solve the number one consumer complaint about adhesive containers, according to F.T. Ross chief executive officer Bernie Ross. When using a glue for the second time, users find the majority of packages are clogged. The closure has a deeply recessed well that the elongated tip screws into that doesn't allow air to reach the adhesive and dry it.
"We needed to convey this benefit on the package while also communicating what the product is, and what it's used for," Ross says. "The new design has accomplished all three."
The tubes are soft and easy to use and fit comfortably into the smaller hands of the many women who use the products. The tube's oblong shape also prevents it from rolling around when lying down on a benchtop or other flat surface. Die cut with a hang tab for pegboard display, the tubes can also be merchandised in eight-count corrugated trays. The cap's large 1¾''-dia base permits it to easily stand up.
"The comments and feedback from both retailers and consumers have been overwhelmingly positive," says Ross.
Krylon tops its previous design
Cleveland, OH-based Krylon, part of Diversified Brands, a div. of Sherwin-Williams Co., has made its 12-oz aerosol spray cans easier to use and the copy easier to read in 2003. The change is being made across-the-board on five product lines that total more than 400 items, according to Krylon senior product manager Mark Ksiezyk. It encompasses its flagship line, Interior-Exterior, as well as new product launches such as Krylon's Fusion and the 12-color Whisper Whites line, claimed as the first white "palette" of paints in aerosol form.
Topping the changes is Krylon's Pinch n' Pull polypropylene closure. The "sleek, tapered" 211 SRNC (squeeze removal necked-in cap) from Berry Plastics "looks better on the shelf than our previous cap," says Ksiezyk. The child-resistant cap is senior friendly and easier for consumers to use and remove from the can, according to Ksiezyk. Unlike competitors' products, the cap can be removed without having to use a screwdriver or other tool, he says. The cap is also said to more closely resemble the paint color than before.
On the design side, the new graphics from Status Inc. include the familiar 5-ball design element that ties into Krylon's brand heritage and has more visual impact than before, along with renewed use for the popular "No Runs, No Drips, No Errors" tagline. Back panel copy has also been made easier to read with expanded information, bold red headers, and quick-reference formatting. "We wanted a more consistent message across the products," notes Ksiezyk. "The feedback for these changes has been extremely positive."
Companies in this article