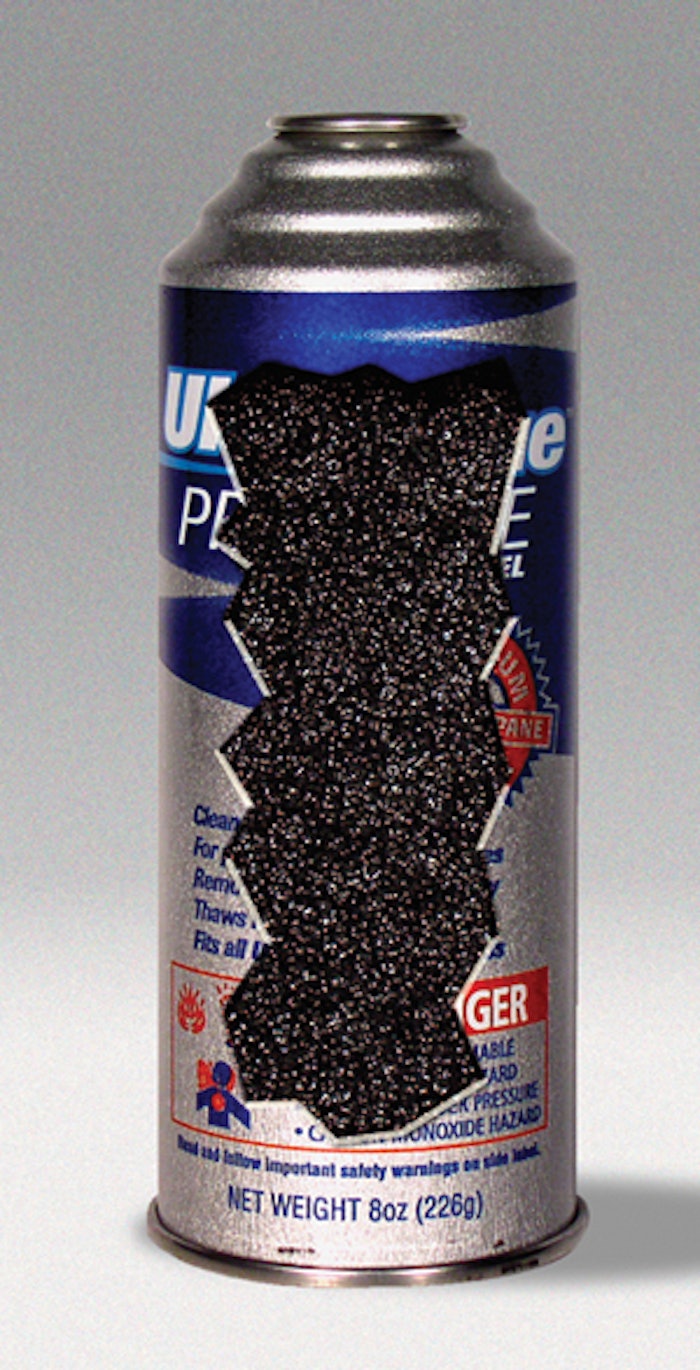 For years, the only way to safely deliver a propane torch for do-it-yourself home projects was a bulky, one-pound fuel cylinder. Tony Miceli Sr., president of Orbit Tools, Oakville, Ontario, Canada, was certainly familiar with them. His company had earlier produced precision-machined parts for them. "Why couldn't the same product be delivered in a lighter, more economical, and more convenient alternative container?" he wondered.
It took a long time and a lot of investment, but Miceli's new company, Ultra Blue Technology, is doing just that. With help from Sexton Can Co., Crest Foam Industries, and EnviroSafe Refrigerants, Ultra Blue has come up with a smaller, lighter, 8-oz aerosol can for dispensing propane.
Sexton Can's aerosol division in Decatur, GA, had received a patent on its Model A-24 drawn steel can that will not explode, create a fire hazard, or propel itself like a rocket. A special pressure relief valve in the base and an "explosion-suppressant foam" insert in the can enhance safety significantly should the can become overheated.
The foam insert is SafeCrest™, a reticulated polyurethane foam from Crest Foam Industries. Although pressure relief valves are designed to open when the contents become overpressurized (such as in a fire), the ESF insert prevents the rapid release of gases. Instead, the gas flows through the vent in a slow, controlled manner.
In ordinary aerosol cans, the gases can be released at velocities high enough to propel the can like a rocket. It was this ability to control the gas release that was at the heart of gaining approvals for this can to be stored and shipped safely. Miceli and its partners had to persuade the U.S. Department of Transportation and its Canadian counterpart, Transport Canada, that this propane container could be safely shipped.
The SafeCrest foam also added one other benefit not possible with propane containers in the past: Because the ESF insert vaporizes when the steel can is melted for recycling, this container can be recycled in most programs.
User advantages
Along with being lighter in weight than the cylinders commonly used, the Ultra Blue Technology container has other advantages. Because the 211x604 can is smaller than usual, it occupies less shelf space for retailers. Obviously, for consumers, the size and weight are also more convenient and make the torch more portable.
And even though the new package holds less propane (8 oz vs 14 oz in the conventional cylinder), the burn time of about five hours at 3꺜 BTU is nearly as long as the cylinder for most applications, Miceli says. Because the formulation of the propane is different, he says the flame temperature is about twice as hot as conventional torches, making the product ideal for melting silver solder.
Propane torches are often used in home plumbing projects, including pipe soldering and joint sweating, or even for lifting floor tiles and removing paint. And Miceli points out that even professional plumbers use handheld torches for convenience or when space prevents the use of larger torches.
Depending on the application, Ultra Blue can be sold with various dispensing devices, Miceli says. "Right now, we offer six different SKUs, one with the can alone, others with a can plus one of two types of dispensing heads. We also have a plumber's kit that comes with flux and paste. And we're starting to look at two-can packs," he points out.
Navigating the regs
Miceli says that providing the test data for Transport Canada and the U.S. Department of Transportation was expensive and time-consuming. "For my consultant to assemble all the data for Canada took several months," he says. "Then it took another year to gain the approval."
Ultra Blue had to supply finished product to both regulatory bodies, along with all the test data it had accumulated. Adds Rick Rayborn of Sexton Can: "Sexton submitted some of the testing we've performed, too."
Miceli adds that both Sexton Can and EnviroSafe have to do ongoing testing, first before the cans are shipped from Sexton. "We do pneumatic pressure testing of the can bodies before they leave our plant," Rayborn says. Once tested, each can receives a silver metallic base paint, he says, then it's dry-offset printed in three colors.
When EnviroSafe actually fills the cans, the plant has to test samples before the filled cans can be shipped to Ultra Blue for marketing, says Randy Price, vice president of EnviroSafe. His company typically tackles hard-to-fill projects, he adds, much like this under-the-cap filling for Ultra Blue.
"Much of our equipment is custom built by us, and we do a lot of work for special DOT containers." In its line, EnviroSafe first inserts the ESF foam cylinder, fills the container, and crimp seals a small steel end to which is mounted a valve. The 1"-diameter end is called the K28 valve from Newman-Green.
Along with the DOT and TC tests, the new can design also had to meet the fire code standards of the National Fire Protection Assn. Major retailers such as Sears and Home Depot require that the package has been tested by an accredited lab under the appropriate Underwriters Laboratory standard. Miceli says his container has met the NFPA 58 liquified petroleum gas code requirements and the International Fire Code Institute's requirements for storage.
Blister packing
Filled cans are shipped to the Ultra Blue Technology facility in Canada. There the cans are loaded into blister packs and sealed to a blister card. Miceli says he hired a marketing company to audit the marketplace, and the company suggested the blister packs. Ultra Blue makes the brass applicator; the trigger version is sourced overseas.
And the product is just rolling out.
"I didn't really get everything ready until sometime in June," he says. He identified Ace Hardware as one of his accounts, but he says "we're still working with the big home centers." He says the product is available in Canadian stores and at retailers in Minnesota and Florida. The basic can sells for $15; other kits sell for up to $24.
"Next," Miceli says, "we're planning to adapt this can to be used for camp cooking. Today, because of the weight of cylinders, some campers use butane. But it's not good in cold weather." And there are other applications for the technology, too.
Companies in this article