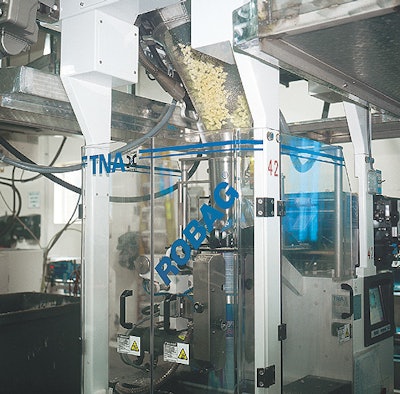 Talk about a tasty dilemma. Last August, snack food producer Snyder of Berlin added a third product extruder and an oven to meet growing sales demand for its cheese curls and puffed corn. To help match the enhanced production capacity for those products, the Berlin, PA, company in August added a third continuous-motion vertical form/fill/seal Robag 2Ci machine from TNA North America. To meet growing sales of its potato chips, Snyder installed two 2Ci machines in 2001.
The equipment has increased packaging speeds and output while decreasing labor, replacement part, and product giveaway costs. The machines are mostly used to fill 1- and 1¾-oz bags that are sold in vending machines, convenience stores, and in multi-packs by club stores.
"Our small bag business is quite large and it was hard to keep up with production," says Joseph Lahm, process manager at the company's 186ꯠ sq' plant in Pennsylvania's Laurel Highlands. "Our interest was in [acquiring] higher-speed equipment."
Before adding the first two TNA's, "We used intermittent-motion machines for our smaller bag sizes." he says. Those two machines, which ran side by side, combined to produce 112 bags/min—and they were getting old.
"Intermittent-motion systems are hard on your equipment," Lahm adds. "The maintenance costs for parts and labor were among the main reasons we replaced our older machines. Parts were just wearing out." Since then, he says, "We've upgraded the mechanical and electronics on the equipment, and now we use the machines for additional small bag production."
It's the TNA equipment that Snyder of Berlin counts on to package most of its small bags. Lahm estimates the three machines are used to fill the small bags about 85% of the time. The rest of the time the machines fill three larger sizes, ranging up to 8 oz. Other vf/f/s equipment at the plant fill bag sizes up to 20 oz. Product is trucked to distributors who deliver loads to customers within an approximately 350-mile radius of the Berlin plant.
To address its concerns with the earlier vf/f/s machines, Snyder "tested several machines in its plant. "It came down to two continuous-motion machines that both used rotary sealing jaws," says Lahm. "We felt that the TNA was a better-running machine. We learned about TNA at the Snaxpo and Pack Expo trade shows," Lahm recalls.
Delivering savings
"Continously running equipment keeps packs moving, and we run each TNA machine at 120 packs a minute," he adds. The equipment typically runs on two daily shifts, 4½ days per week, depending on the season.
Besides operating at the higher speeds Snyder sought, Lahm says the new machines provide several advantages. He uses the two potato chip lines to quantify the benefits, since more detailed records are available for them than on the newer 2Ci.
Lahm says those two vf/f/s machines save a total of $15ꯠ a year in replacement parts costs. All three machines can be changed over quickly, which also lowers labor costs. The servo-driven machines come with quick-change seal jaws and forming collars. "We can usually change the bagger in about 10 minutes, compared to 15 to 20 [on the older equipment], because the TNA's require fewer adjustments," he notes.
Labor represents the largest savings attributable to the machines. The two machines that pack potato chips combine for $175ꯠ in annual savings. "We had to run more production shifts during the course of a year to produce the small bags," Lahm says of the older vf/f/s units. "With the increased speed of the TNA machines, we were able to reduce the number of shifts we had to run when we used the older machines."
Additional savings come from reduced product giveaway attributable to greater scale accuracy. On the two potato chip lines, the vf/f/s machines are topped with 14-head Ishida scales from Heat and Control. Giveaway, says Lahm, runs between 0.6 and 1 gram per small bag, compared to 1 to 1.24 grams on the earlier equipment. That yields $28ꯠ in annual savings from the two machines. The newest vf/f/s uses a 14-head TNA-414-SNX multihead weigher.
Another benefit: "There's a reduction in packaging [material] waste. When we changed over the old machines and made adjustments for bag size, we ran maybe 15 to 20 bags through to get the proper seals. Now we get the machines running [quickly]." He says packaging waste has been reduced to about 0.5%, compared with 2.4% previously. That's led to $14ꯠ in annual savings.
Examining the process
Extruded product is conveyed from processing to a mezzanine area where it tumbles over a cone to the top layer of buckets a 14-head scale. A combination of buckets is selected that contain product that most closely meets a bag's target weight. Those buckets release the snacks into film that's formed into a tube and bottom-sealed simultaneously with the top seal of the previously filled bag.
Unlike many vf/f/s machines, the TNA Robag 2Ci is built with a "tubeless former." While a forming collar is part of the equipment, there is no tube extending downward from the collar. According to TNA, a tube would restrict the product flow, which would be problematic for Snyder's small bags.
On these machines, film is formed around the collar into a tube that's captured by vacuum belts and heat-sealed into a lap seal. The servo-driven Robag includes two forming jaws mounted on a device that rotates much like a revolving door. In continuous motion, one jaw seals a pack while the other jaw seals the next pack.
Each sealing jaw is equipped with mechanical strippers and tube closers that slide down the tube from two sides, nudging any product out of the seal area that may be caught. Seal jaws then heat-seal the bag closed. A rotary knife cuts through the seal area, discharging the bag from the bottom of the machine. Bags are conveyed on an incline for case packing and palletization. Pallets are stretch-wrapped on older equipment and delivered to a warehouse area for distribution.
Snyder relies on Printpack for rollstock used to pack virtually all of its snacks. For extruded snacks, a 2.1-mil three-layer lamination of 70-ga polypropylene/adhesive/70-ga PP is used. The outer layer is reverse-printed flexographically in varying number of colors depending on the product. A window allows consumers to see product through the structure. Potato chips use a three-layer, 2.1-mil extrusion lamination that includes 70-ga PP/adhesive/70-ga metallized PP. Its outer layer is reverse-printed flexographically, in four to six colors.
"We specify materials and we chose Printpack because of its quality," says Lahm. "Printpack knows the vertical form/fill/seal machinery, and works with us on a continuous basis. Its people come in and have made suggestions for material structures that have helped us to reduce costs, and its metallized film is really attractive."
New equipment
Looking back on the company's decision to purchase new vf/f/s machinery, Lahm says, "After more than 10 years, we had to bring ourselves more up to date. We've justified the investment in the machinery through increased speed, less labor, maintenance, and giveaway costs. Management's been happy with the equipment."
So much so that it approved the purchase of a fourth TNA Robag machine that was scheduled to be running in August for bag sizes from 5 to 20 oz.
At the same time, Snyder of Berlin will further automate its packaging process by equipping three of the four TNA machines with customized case erectors and pick-and-place case packers from BluePrint Automation.
Designed to further reduce labor costs, the units were selected because BluePrint was able to address Snyder's concerns about limited space in the Berlin facility. "We didn't have room for a case erector, so we worked with BluePrint and another potential vendor," says Lahm.
"BluePrint went from offering its normal case packer to a pick-and-place machine with an automated case erector integrated into the packer," he continues.
What about a unit for the fourth vf/f/s machine? Lahm says, "That's another project for another day, but we're working on it."
Companies in this article