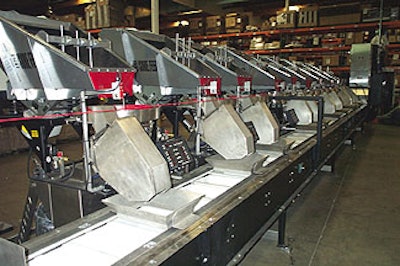 Companies from swing-set manufacturers to furniture producers to auto companies count on A.R.C. Fastener Supply, which provides the counted and bagged fasteners these companies or their customers use to assemble their products.
Nut by nut, bolt by bolt, washer by washer, A.R.C. counts on equipment from Batching Systems, Inc. (Prince Frederick, MD) to deliver the correct number of pieces for each bag. The company operates five BSI vertical form/fill/seal baggers and more than 50 BSI counters. A vf/f/s machine may be supplied parts by anywhere from 2 to 12 counters.
"We package about 500ꯠ pounds of hardware a week into fastener kits, and the amount of rejections we have is absolutely miniscule," says president Joe Myers.
Two of A.R.C.'s latest systems use contrasting vertical form/fill/seal setups: One assembles different items into a bagged kit via a bucket conveyor and a bank of counters; the other counts identical parts into a bag using a computerized combination netweigher atop the vf/f/s
One of those major system upgrades at A.R.C.'s Rancho Cucamonga, CA, plant is a collated kit packaging line. It's equipped with 10 side-by-side BSI Batchmaster II® DV 100 Counting Systems and two BSI Thru-Wall Bolt Feeders. The system was operational in mid-2001.
Each Batchmaster II unit sorts and counts a particular item such as a washer. The microprocessor-controlled counters use patented dual-view optics to measure the volume of a part as it falls inside the unit's central metal housing. Two-direction viewing helps the accuracy in counting small, shiny, or clear objects. The system also distinguishes overlapped parts and ignores incomplete parts or scrap. The counted parts are deposited into a 60'-long heavy-duty bucket conveyor that is capable of handling up to 30 lb of fasteners per bucket. Movement is left to right, and by the time the 15'' x 11'' x 5'' buckets reach the end of the conveyor, each holds as many as 12 or more different parts. Larger or odd-shape parts such as brackets may be placed manually into the buckets.
All the counters are mobile, kept in place by twist anchors that allow A.R.C. to reposition them if necessary. Production manager Leonard Hudson says they they can expand to as many as 38 counters.
Ergonomic improvement
The 12 units are equipped with BSI's Sure Feed Hopper Lift™ Ergonomic Prefeeder supply found on the back of each feeder. When the hopper needs to be replenished with fasteners, the operator lowers the hopper electronically so that the heavy parts can be loaded ergonomically. "The operators used to have to lift the heavy materials up over their heads to load them," notes Myers. "Now, the hoppers tilt back and drop down to waist level." Each holds up to 1귔 lb of fasteners.
The buckets deliver the parts to a vertical bucket elevator that deposits them to the top of the Bagmaster® F-180-12 Heavy-Duty vf/f/s machine. The parts are deposited down the filling tube where the bag rests upon a platform. After the bag is filled and heat sealed, the platform swings down to release the bag to an inclined takeaway conveyor from which it discharges into a bulk bin.
A.R.C. generally runs the bagger at an overall average speed of 20 bags/min, according to Hudson, and up to 40 bags/min. Bag sizes range up to 14'' x 12½'' and can weigh as much as 30 lb.
A.R.C. changed its film vendor in March to Western Summit Manufacturing (City of Industry, CA). The specially formulated puncture-resistant films can withstand the impact of the heavy parts, Hudson notes. A.R.C. uses a variety of web widths, with thickness of 3 mils to 4 mils. The material is a coextruded blend of low-density polyethylene.
Made a believer
Once skeptical, Myers has become a big fan of BSI equipment.
"We started with just one piece of BSI equipment because I didn't believe it could do what they said it could do," acknowledges Myers. "Now we own six whole systems worth about $2.5 million. I've even replaced other systems with BSI equipment.
"We were looking for efficiency, proficiency, accuracy, and output. It doesn't matter if you are counting nuts and bolts or tuna fish, the faster you count, the lower the accuracy. The ideal is to go as fast as you can get while staying as accurate as you can. That's why I've upgraded with BSI equipment, I found the equipment runs faster and more accurately than others. The difference is like night and day, and we have 99.999 percent accuracy."
Myers had tried other machinery, but without success: "Those other machines barely worked. In fact, I ended up scrapping one $10ꯠ system and taking the loss. The BSI counter was more than twice that price, but the return on investment was much greater. Also, we didn't have to rework as high a number of hardware kits as before—when I'd bet one out of four bags had to be reworked—so the equipment was worth it."
Whatever the future holds, A.R.C. knows it can continue counting on BSI equipment.
To read more about A.R.C.'s latest vf/f/s system, see: packworld.com/w010
Companies in this article